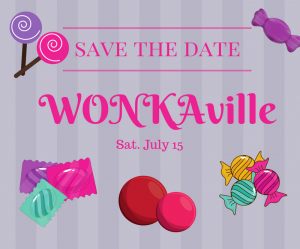 Saturday, July 15 will be a fun filled day at Town as we host WONKAville! Join Willy Wonka himself and get a sneak peek behind the gates of his candy factory. We'll have a special preview of the show ~ be the FIRST to see it! And that's not all! You can join in on the fun and learn a few steps from our Oompa Loompas, play pin the tail on the squirrel with Veruca, do a live TV interview with Mike Teavee and Phineous, make a delicious chocolatey treat with the Gloops and participate in Violet's bubble blowing extravaganza contest! And, while you are here, bag a few meals with Charlie Bucket and our friends from Feeding Children Everywhere! Throw in a photo op with Wonka and the chance to win your own GOLDEN TICKET to see the show, and it is sure to be a Wonkaful day!
Tickets for participants ages 12 and below are $10. This includes ALL of your activities and your photo (which will be emailed to you after the event). We're also asking for a $5 contribution for ages 13 and up ~ after all ~ it is a GREAT cause! Sign up to be a part of the 10:00 AM tour or the 11:15 AM tour.

Tickets available here  OR via phone at 803-799-2510. All proceeds from WONKAville will be given to our partner, Feeding Children Everywhere, to support LOCAL hunger efforts.