Where would you like to sit?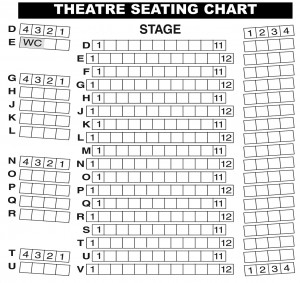 Contact the box office at 803-799-2510.
Looking for TICKETING POLICIES? Visit HERE.
A few helpful hints for online reservations:
Log in (if you have used our online system before) OR create an account. You will need to use the email address you provided to us to set up your account.
IGNORE any section that has price information in the shopping cart. Proceed with the CUSTOMER LOGIN.
After you log in, please confirm your contact information. Be sure to complete the last drop down item on that page that asks "How did you hear about us?" You can select "I Am a Member."
Members should NOT enter any credit card information in the system.
The ticket price will "zero out" once you click on the APPLY button which is located just above the credit card form.
After you complete your order you will receive an email which will allow you to PRINT YOUR TICKETS and bring them to the show!
HOW DO I KNOW IF USING THE ONLINE RESERVATION SYSTEM AS A MEMBER IS NOT FOR ME?
There are some circumstances when we think it will be easier for members to call the theatre rather than go through the online process.
Have a membership, but also want to buy additional tickets? This transaction isn't possible ONLINE until we open to the public, but if you call or stop by, we can help!
If you come with a group of friends and the memberships are in the names of the different patrons
If you have a priority membership (patron and above) AND a regular membership (adult, senior, youth) and want to reserve ALL of your tickets at the same time, you must wait until the general membership day. We apologize, but there is no way we can override this in the system.
CALLING US?
Remember, phone lines are very busy on opening days. The hours of 3-5 p.m. tend to have lighter traffic if you wish to wait until then. Our number is 803-799-2510.
Messages are checked and responded to as quickly as possible, but sometimes it is the next business day or after business hours before we can return the call.
The box office is open 12-5 PM weekdays. Beginning on opening night of the show, our hours are extended until showtime during the week and we will also open Saturdays at 5 PM and Sundays at 1 PM.