Auditions ~ Auditions ~ Auditions!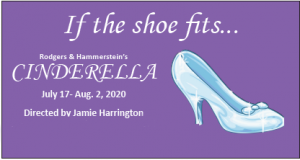 We know the shoe will fit as you audition for our summer production of Cinderella! This isn't your mother's Cinderella either – it's the new Broadway adaptation of the classic tale. Of course, it has some of your favorite Rodgers & Hammerstein songs including "In My Own Little Corner," "Impossible/It's Possible" and "Ten Minutes Ago," but the up-to-date libretto will give you a new love for the story of the girl behind the glass slipper.
Don't let the clock strike midnight! Auditions will be held Sunday, March 15 at 6:30 PM for ages 5 to 13. Adults and teens (age 14 and up) can audition Monday, March 16 or Tuesday, March 17 at 7:30 PM.
Visit towntheatre.com in the coming weeks for more details! Cinderella will run July 17 – August 2 and is under the direction of Jamie Carr Harrington.
Questions? Please email Shannon Scruggs.