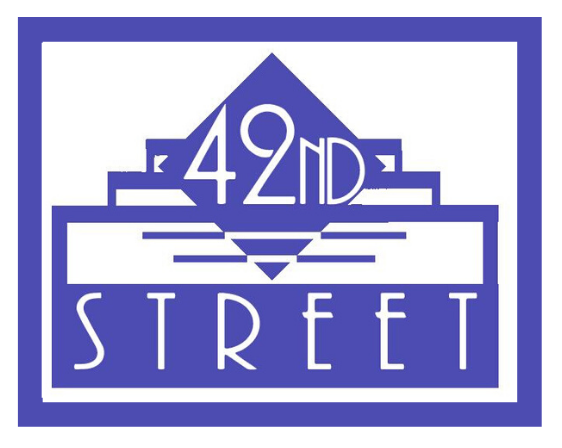 Get out your tap shoes, Frances! Town Theatre is doin' a show – 42nd Street. We cannot wait to meet those tapping feet for the ultimate show-biz musical celebrating Broadway! Auditions will be held Sunday, June 13 at 7:30 PM and Monday, June 14 at 7:30 PM. (You only need to attend one.)
Adults and teens who look 16 ages and up should prepare 16 bars of a song which best shows your range and ability, preferably a Broadway style song. Please be prepared with sheet music or instrumental recording. An accompanist well be available. Please wear clothing suited for dance movement and bring tap shoes if you have them. Readings from selected script excerpts will be done for all interested in character or supporting roles.
42nd Street will be directed by David Swicegood with choreography by Joy Alexander and musical direction by Dr. Greg Boatwright. The show will run September 10 through 26, 2021. Thursday, Friday and Saturday shows are at 7:30 PM with Sunday matinees at 3:00 PM.
Download your audition form here to save time in line!
A limited number of perusal scripts are available. Please email shannon@towntheatre.com to make an appointment. Or visit the Concord Theatricals website to locate a digital perusal.  
All roles are available, and everyone is invited to audition:

PEGGY SAWYER (Range Eb3-E5)
Female, 20 – 29. Incredible triple threat and an expert tapper. A versatile and charismatic 'new kid on the block' chasing her big break. A smart and versatile actor with a great belt. A star presence full of optimism, warmth and innocence.
BILLY LAWLOR (Range C#3-A4)
Male, 25 – 35. Excellent triple threat. Powerful tenor with killer feet. Funny, charming and chock full of style and slick.
JULIAN MARSH (Range D3-Ab4)
Male, 50s. Broadway director. Powerful presence, commanding actor who moves well. Tough, jaded but warm. A grounded, commanding actor with a powerful baritone.
DOROTHY BROCK (Range Eb3-B4)
Female, 40s-50s. Excellent actor with terrific comedic chops. Star presence, diva w/ great style, commanding, adept at navigating heightened comedy and warm sincerity with style. Must move very well.
MAGGIE JONES (Range Ab3-Bb4)
Female. 30s/40s. Funny, broad, big belt. Show stopper with a nose for broad comedy and style.
BERT BERRY (Range C3-D4)
Male, 30s/40s. Charming, funny actor who sings and moves well.
ANN REILLY "ANYTIME ANNIE" (Range Ab3-Bb4)
Female, late 20s/30s. Wise-cracking, flirtatious, tough but lovable triple threat. Big belt, great feet, star presence.
ANDY LEE (Range D3-Db4)
Male, 30s. Dance Director. Strong triple threat. Efficient, tough, but caring dance director. Terrific, commanding presence. Expert tapper.
Other roles include:
Chorus girls Phyllis Dale, Lorraine Flemming, Gladys, Diane Lorimer and Ethel
Pat Denning — former vaudeville partner of Dorothy's (Range: D3-Eb4)
Abner Dillon — "angel" for Pretty Lady (Range: Gb3-D4)
Oscar — rehearsal pianist
Mac — stage manager
Frankie — stagehand
Young Man with Clipboard — stagehand
2 Thugs — employees of gangster Nick Murphy; one of them non-speaking
Doctor — Philadelphia theatre physician
Waiter — Gypsy Tea Kettle employee
Millie — dancer; non-speaking
Willard — theatre electrician; non-speaking
Robin — dancer; non-speaking
2 Policemen — dancers; non-speaking
Pickpocket/Thief — dancer; non-speaking
Young Soldier — dancer; non-speaking
Gangster — dancer; non-speaking
Conductor — the music director of the theatre pit orchestra; non-speaking
ENSEMBLE
Various Kids' Voices, Theatre Personnel and Singers and Dancers of the Chorus
Questions? Please email Shannon Scruggs.