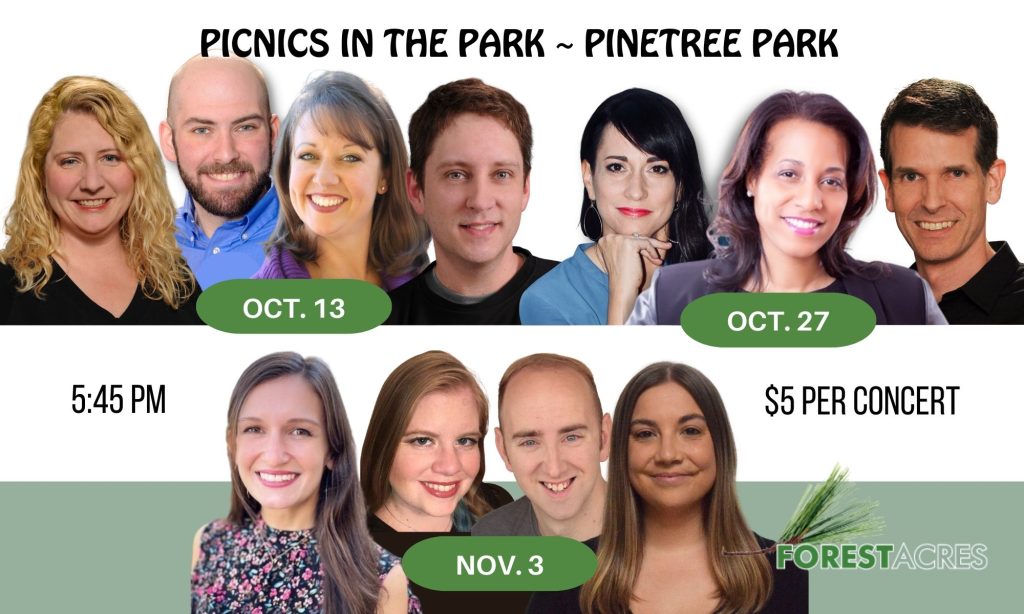 Be sure to join Town Theatre for its fourth concert series ~ Picnics in the Park ~ Fridays, October 13, 27 and November 3 starting at 5:45 PM. Each concert, lasting roughly one hour and concluding before the setting sun, will feature different performers in an evening of song providing the perfect backdrop for a family picnic.
The series kicks off on Friday, October 13 with some of Town's long-time performers – Rebecca Goodrich Seezen, Shannon Willis Scruggs, Billy Bishop and Scott Vaughan. Rebecca and Shannon literally "grew up" on the Town Theatre stage and, between the two of them, have played some iconic roles including Fantine, Patsy Cline, The Lady of the Lake, Annie Oakley and more! Both Rebecca and Shannon are Forest Acres residents and are proud to sing for the neighborhood! Scott is well known for his appearances in both Joseph and the Amazing Technicolor Dreamcoat and The Music Man. By day he is the drama teacher at Satchel Ford Elementary School, in the heart of Forest Acres. Joining our Forest Acres trio is Billy Bishop. By day he is the Pastor at Northside Memorial Baptist in Sumter. His most recent Town performance was as both Dr. Jekyll and Mr. Hyde. The group will be accompanied by Jeremy Hansard.
On Friday, October 27, the concert series will welcome home some Town performers. What a pleasure to have Lee Martin back in Columbia after her recent move to Kentucky. Lee has crooned away in Town's productions of Hello, Dolly!, Hairspray, The Buddy Holly Story, The All Night Strut! and Newsies. Also coming home is the talented Kerri Roberts. Though she is just down the road in Summerville, SC, audiences will enjoy the return of this performer who is well known for her many roles at Town including Marian Paroo, Mary Poppins, Eliza Doolittle and many Marias (West Side Story and The Sound of Music). The third performer of the homecoming is Jeremy Hansard. Jeremy's Town stage performances have included Bert in Mary Poppins, Henry Higgins in My Fair Lady and Grandpa Jo in Willy Wonka. He not only is coming home for this concert but is now on staff at Town Theatre.
Our final concert of the series will be Friday, November 3 featuring our Town Theatre voice faculty and youth theatre director. David LaTorre has been seen on stage in The Music Man, Bright Star and Joseph and the Amazing Technicolor Dreamcoat. By day, he leads the youth theatre program at Town and has the pleasure of working alongside his fellow picnic performers. Katie Gatch has served as a Town musical director and is one of our private voice instructors. She is well known for her opera performances at USC. Amanda Wrona got her start as a musical director at Town and has also appeared on the stage in Les Mis and Beauty and the Beast. She is the primary vocal instructor for our Town Teen Troupe. Jane Cato recently directed The Sound of Music and was also on stage in Bright Star. She is the primary vocal coach for the Town Tween Troupe and also offers private voice lessons. Our faculty concert singers will be accompanied by Michael Simmons.
Tickets for each concert are $5 and you may purchase online HERE. You may also purchase your ticket on-site at the park. In true picnic fashion, be sure to grab dinner from your favorite Forest Acres restaurant. Please also bring your own seating in the way of tailgate chairs and/or blankets. There is plenty of room at the park to spread out and enjoy the fantastic entertainment.
Pinetree Park is in the triangle between Coker Street and Wofford/Winthrop Avenues in Forest Acres. Coker runs perpendicular to Trenholm Road near Trenholm Plaza. In the event of inclement weather, the concert will be held indoors at St. Martin's in the Fields at 5220 Clemson Avenue. Town Theatre thanks Forest Acres for their support of this partnership. If you have questions, please call Town Theatre at 803-799-2510 or email town@towntheatre.com.