Guest blog by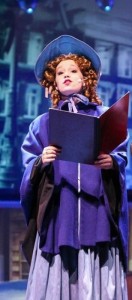 Em Imholz
Dolly Parton says that singing, entertaining and writing is her way of channeling her feelings and her thoughts, not just her own, but the things that she sees and the people she loves. She writes, "My head would explode if I didn't get all of this stuff out!" This is the perfect description of how I feel about my love for music, why I create, the reason I keep singing and why I can't wait to step on that stage. The excitement is intense, the familiar butterflies and my heart pounding like it's about to leap from my chest. I'm about to do the thing that I live for, that makes me happier than any other thing. I'm about to do what makes me, me. I can hear the buzz of 1,700 people. The audience at the famous Celebrity Theater is just as excited as we are. It's opening day at Dollywood's Smoky Mountain Christmas Festival. Our 18 member cast is about to bring to life a very unique version of A Christmas Carol for the very first time. I can't believe I'm originating the role of Fan and Belinda Cratchit here. We are going to sing seven brand-new songs written by Dolly herself. I can hear the music for my solo and then I hear Dolly's beautiful words coming from me. I'm thinking this is crazy. This is a dream. How did I get here?
That is what I was feeling two years ago and now I am experiencing my third Christmas here in the great Smoky Mountains. I just picked up my employee tickets for the private screening premier of Dolly's new movie, Coat of Many Colors. I'm very excited to see it. The more I learn about Dolly, the more I feel we were a lot alike as kids. I would sing, dance, and entertain for anyone that would listen. I loved to teach myself to play instruments and write songs and cast my friends in my plays. Like her, I simply loved anything, everything, all things musical. It's always been more than my passion, it's my identity. It's just who I am. When I read about Dolly as a child, she says the same kind of things.
When I was nine years old Shannon Willis Scruggs and Christopher McCroskey took a chance on a very inexperienced little kid and cast me as Jemima in Chitty Chitty Bang Bang at Town Theatre. That one chance changed the way I saw the world for good. It changed the course of my life and instilled a love for musical theatre in me that burns bright to this very day. I've since had the opportunity to do many shows at Town Theatre. Before rehearsals for each show, my Mom would tell me to soak up the other actors around me like a sponge. And that's exactly what I did. I was blessed to learn from the very best actors and directors around. Such professionals as Shannon Willis Scruggs, Christopher McCroskey, Andy Nyland, Jamie Carr Harrington, Agnes Babb, Christy Shealy Mills, Rob Sprankle, Frank Thompson, Shelby Sessler and so many more. I have even been given the opportunity to tech backstage with Danny Harrington ~ one of the best. These people are my teachers and the Town Theatre stage is my classroom. I've taken many classes since Chitty Chitty Bang Bang but nothing has helped me or prepared me for what I'm doing now, more than the generous actors at Town. I will never be able to repay them for what they've done for me; what they keep doing. I realize that I have been truly blessed.
Every kid's dream would be to do what you love in a theme park. Working at Dollywood is so surreal. During The Smoky Mountain Christmas Festival here, six different musicals all run at the same time. Each are newly arranged or originally written by Dolly an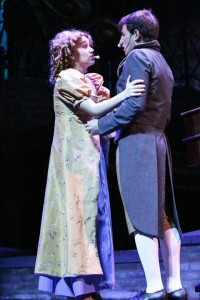 d other artists from Nashville. Shows like Oh Holy Night, 'Twas the Night Before Christmas, Christmas in the Smokies and others run in separate theaters back dropped by 4 million dazzling multi-colored lights and hundreds of gorgeous trees and decorations. There are five roller coasters, more than in any other park in the world, with number six currently being built. You can smell traditional Christmas dinner cooking in the air and hear the laughter of children as they roast marshmallows and S 'mores. You can hang out with Rudolph and friends at the Holly Jolly Junction and even see the big guy himself, Mr. Claus. From the lyrics of one of Dolly's songs, it's a hometown country Christmas. I think the park captures the essence of the holiday season. It's not just about the beautiful trees and lights but about love and celebrating the traditional true meaning of Christmas. The park has won The Association of Amusement Park and Attractions coveted Golden Ticket Award for Best Holiday Event 8 years running. We always win Best Food and Friendliest Park and I just heard that our show, A Christmas Carol, has won Best Show for the second year. Our show uses state-of-the-art holographic technology to place Dolly and two other actors onstage as the Ghosts of Christmas Past, Present and Future. The show marks the very first time that this kind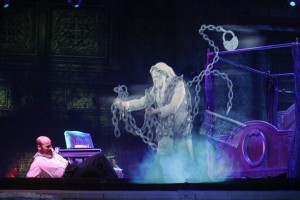 of technology has been used in a theme park anywhere in the world. After our Season concludes, I will have been in almost 500 shows; this year for the first time being cast as Belle, Scrooge's fiancée. It's a full-time adult role and I have a swing to give me a rest and a few days off. I'm doing traditional home school this year for the first time. It's all hard to keep up with, but when it's your dream you make it work. My Mom and Dad have made so many sacrifices to allow me to fulfill these dreams. My blessings really are endless and to be able to celebrate them for Christmas at Dollywood each year is just incredible.
I really don't know where my love for all things musical will take me.  But I do know that when I look back, I'll think of all the fun, encouragement and education I got at Town Theatre. If you get a chance, look for my plaque  on the wall at Town. Mom and Dad bought it for me after Chitty Chitty Bang Bang closed. It says, "This is where it all started." And you know what? It sure was!