Guest blog by Danny Niati
It seems there is always a very clear moment during a production where I find myself  saying, "Why do I do this again?" This usually during tech week when everything is just beginning to come together in what seems to be a haphazard mess of costume changes, sound checks and light cues.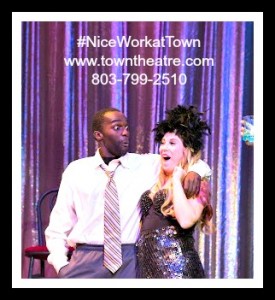 As I stand back and watch the cast scrambling around, the crew hurriedly moving sets about the stage, random noises erupting from the speakers, and the stage lights flashing on and off like a strobe light, it all seems very comical. For some, it's very easy to get lost among the hubbub and for others frustration is a factor and it's time to call the whole thing off. But it's during this time that I close my eyes and recite, "I do this because I love it. I do this because I love the feeling of performing. But most of all, I do this because there is no greater feeling than getting a group of strangers together for three months and making magic happen." It's true that there are no people like show people. No other family ~ yes, I said family ~ can lift you up and send you soaring quite like a theatre-family. And that is the very crux of the reason I keep coming back to the stage because despite my shortcomings, misgivings and severe stage-fright, I can feel that warmth if even for a short moment and that is why I do and will keep doing this again, and again, and again, and again…
Come see Danny in Nice Work. Tickets available now!