Guest blog by Charlie Goodrich
With the discovery of so many rich musical pieces, I now had the building blocks to fully construct my narrative.  Coming up with character names was a cinch because I could use the names of the characters that originated the songs in the original productions, and then apply these names to my newly created dramatis personae.  However, my next step was the most important of all: developing and adapting the characters storylines so that everything worked together in one show.
At the forefront of the "drama" section of my story are 2 female leading characters: Margo (the mature, worldly, yet insecure star) and Eve (a young ingenue Production Assistant that is seemingly sincere).  Here were my two ladies that had been inspired by all of the works mentioned at the beginning of this writing.  It seemed appropriate to choose the names from the most famous work, All About Eve.  Finding two actresses to portray these complex women was actually the easiest part of casting, believe it or not.  For Margo, I had to look no further than my own sister, Dell Goodrich (Stand By Your Man). For Eve, I spotted what I was looking for immediately in Mary Joy Williams (Nice Work if You Can Get It). Other characters I included are a playwriting couple, inspired by Karen and Lloyd Richards in All About Eve, Maggie and Bert in42nd Street, and Georgia and Aaron Fox in Curtains (whose names I chose to use). These roles were perfect fits for Megan Douthitt (Mary Poppins) and Corey Langley (The Addams Family).  I now needed to select an actor to portray the director of the "show within a show" and love interest to Margo, Mack Sanders, inspired by Bill Sampson from All About Eve and of course Mack Sennett from Mack & Mabel. After a wide search, I finally found the ideal actor for the role: Bill LaLima (Les Mis), who's warmth and humor shine throughout the story. One more major character needed to be cast: the acerbic, witty, and pantomath critic influenced by Daryl Grady from Curtains, Feldman from The Magic Show and Addison DeWitt from All About Eve, who's name I knew I had to use. Bob Blencowe (Spamalot) agreed to join the cast.
With these theatrical stock characters in place, I knew I could easily develop my narrative.  But, I needed additional characters, of course. To approach these personalities, I first looked at what songs needed soloists, and constructed from there.  To sing the beautiful "Lion Tamer" from The Magic Show, I immediately thought of Town newcomer Robin Saviola.  Her character, who is also inspired by Maggie from 42nd Street as well as Birdie from All About Eve would be named Cal, after the soloist from Magic Show.  To sing the quintessential title song from Applause,  the lovely and talented Allison Allgood (Sugar) came to mind.  This character became a combination of the original soloist form Applause, Bonnie (who was portrayed by Bonnie Franklin.  In like-fashion, all of the ensemble members of the original production went by their own names as a cheeky homage to their real-life gypsy status); and Gittel from Seesaw, who originated the hilarious "Nobody Does It Like Me."  To give credit to Applause, I named the character "Allison" after its actress and made her the bartender/owner of Backstage Bar.  To be the soloist in the big dance number in the show: "It's Not Where You Start" from Seesaw, Anthony Matrejek (Nice Work If You Can Get It) was a natural choice. His character, David, would be a combination of Duane from Applause and most importantly, David from Seesaw (a Tony Winning Role for Tommy Tune).  To play the tap dancing bartender, Phoebe, Samantha Livoti, was selected. This character is partly inspired by a minor character from All About Eve, but will be featured much more prevalently in  Backstage.  A new addition to the utilized classic theatrical keynote is the character of the leading lady's mother, Belle, whom is being portrayed by the great Kathy Hartzog (Driving Miss Daisy).  Belle arrives a few times throughout the course of action in Backstage to keep her daughter, Margo, in check and administer to her a healthy dose of reality.
The remaining actors and actresses in the show include Nate Stern (The Addams Family) as Christopher, an aspiring director and member of the ensemble of the show within a show. Emily Northrop (Sugar) will portray Cathy, a struggling actress that gets to amuse and move the audience. Josh Kern (Grease) is back as Jerry, the leading man of the show within a show. Lisa Akly (The Little Mermaid), Tracy Davenport (White Christmas) and Town newcomer Rachel Rizzuti, play Broadway performers Wanda, Angela, and Jill, respectively. Rebecca Goodrich Seezen (Spamalot) will join Jennifer Davis (Spamalot) will bring to life the roles of Donna and Dina, two Broadway singers and dancers that get to "sparkle" with their soulful and upbeat songs. William Ellis (The Little Mermaid) will join Jalil Bonds and John Dixon (in their Town debuts), as ensemble members Herbie, Brick, and Oscar, respectively.  These three gentlemen are clever and witty throughout the show. Town veterans Kristy O'Keefe (Peter Pan), Emily Clelland (The Little Mermaid), Roxanne Livingston (Nice Work if You Can Get It), and my lovely cousin Agnes Babb (Mary Poppins) will take the stage as featured dancers Arlene, Bambi, Nicki, and Marjorie, respectively.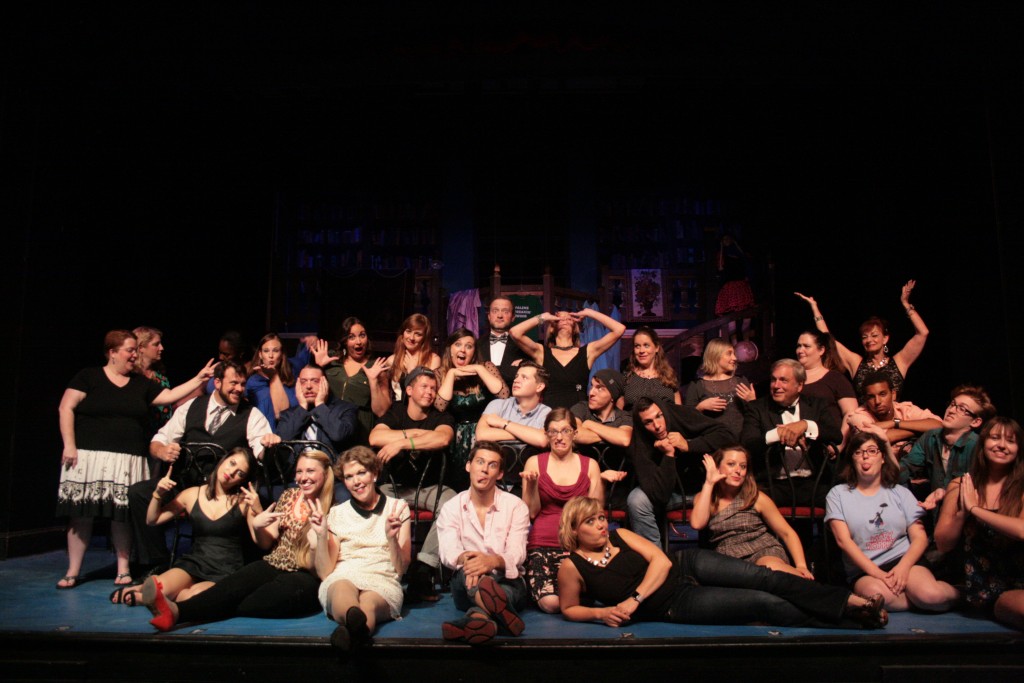 We hope these three blog entries have given you a little insight into how this show was conceived, constructed and put together. It's been fun and we look forward to seeing you tonight! Visit www.towntheatre.com or call 803-799-2510 for tickets.

And don't forget the pre-show reception at 7:15 PM!