Guest blog by Tassie Collins
What makes an analytical 30-something want to audition for musical theatre for the first time?
Spamalot is a wonderful show!  Here's one of many favorite lines: "When life seems jolly rotten, there's something you've forgotten.  And that's to laugh and smile and dance and sing."  Who doesn't want to laugh and smile and dance and sing?  That is what this show is all about! Deciding to do it in front of an audience only took me 32 years.
You might be surprised to learn that I am not the only one involved in the making of Spamalot that has a rather logical, analytical day job.  I learned that Lou, our musical director, is a MATH teacher by day.  Maybe that doesn't surprise you, but it did me.  I was told she was a teacher and I thought: "Oh, maybe she teaches drama, literature or creative writing." I didn't think about math.
I am a school psychologist.  I enjoy working with people, including the little ones.  My job is largely assessments and a sort of detective work where I collect data from many places, put it all together and try to diagnose academic, emotional or behavioral problems' origins. Then figure out what interventions might work best in helping a particular child overcome or cope with those diagnoses.
So what makes an analytical person do theatre?  What makes an analytical 30-something want to audition for musical theatre for the first time?  The short answer is an awesome show and a couple of inspirational people.  Although, several things happened over the last ten years that led up to this decision.
I have my analytical side but I have always loved music and singing and dancing too.   In my 20s I began seeing Broadway musicals; first in Atlanta and Charlotte and then in NYC. During my first visit to NYC I saw four Broadway musicals including Spamalot. It is a happy, silly, funny show.  I loved that it made fun of everything including itself. I bought the music before I left Shubert Theatre.
I also started teaching aerobics classes in my twenties, which included Zumba: a Latin-dance inspired cardio class. These helped me feel comfortable in front of people and dancing in front of strangers. In the past three years, I've visited NYC for a few long weekends to binge on Broadway musicals.  I managed to get my 7-year-old niece, Kenslie, excited about theater too.  She made her acting debut at 5 at the Columbia Children's Theatre in Aladdin.  I was quite a proud Auntie.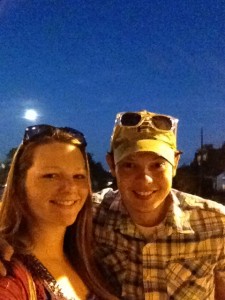 Right after Kenslie's performance, I started working at a new school where I met a very special guidance counselor whose not-so-secret passion was theatre.  He and I were fast friends and loved talking about shows and actresses and life.  We laughed and smiled together often.  Sometimes one would break into song and the other would join right in.  He wasn't well so he was not involved in any shows then.  Our friendship was only a little over a year old when he passed away.  In my grief and confusion I thought of all the things we'd planned to do together and never had the chance.  Among them, I was sad that I never saw him perform and that I never had an opportunity to play alongside him.  How much I would've loved to be a part of a show that included him. Nothing negative occurs without some silver lining.  Out of my regret came a desire for a new adventure and a desire to be with other people like him, like me, who love to laugh and smile and dance and sing.  When I saw that Town Theatre was putting on Monty Python's Spamalot, I knew it was the right show for my first audition.
My friend died in September, the very start of this school year.  Working in his school without him there has been difficult and sad.  Spamalot has given me such a wonderful opportunity to smile and laugh and sing and dance; to honor the memory of my warm-hearted, beautiful, sweet, lovely, talented, compassionate, loyal, dedicated, wonderful friend; to be in his beloved theatre with his friends and for a few hours a day forget the sad things and the hard things life sometimes hands us.  A great musical, a 7-year-old girl and Jon Taylor drove out my fear of singing in public and inspired this 30-something to embark on a new adventure.