Town Theatre had a banner day through Midlands Gives raising $22,111.25 via the 18-hour give-a-thon sponsored by the Central Carolina Community Foundation. More than $3.7 million was raised supporting 540 nonprofit entities throughout the Midlands area.
Town's donors were a mix of patrons, Board and staff leadership and performers with $5,500 being provided in match funds.
BIG congrats to the cast of The Red Velvet Cake War who has the bragging rights of being THE LAST CAST STANDING for 2022! Congrats to the casts who met the challenge of having 50% or more of their group give to Town. They will be hosted for a cast reunion in the coming week.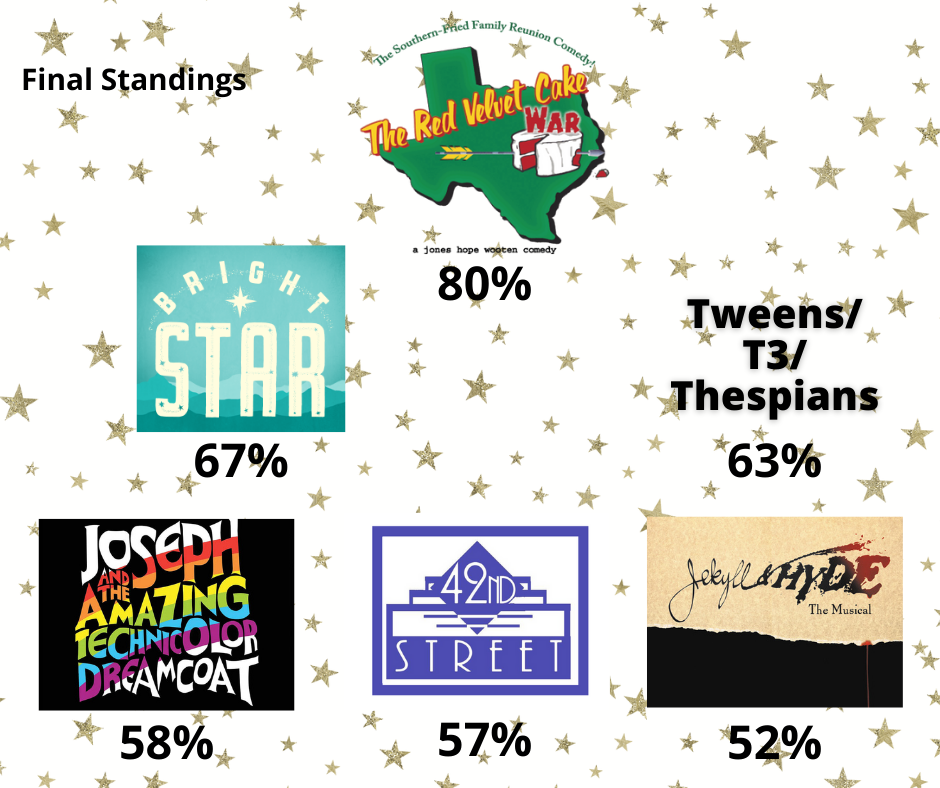 Thank you to all of our Midlands Gives Donors. We are so grateful!
Anonymous
Chelsey Art
Liz Auld
Agnes Babb
Anita T. Baker
The Barnette Agency, LLC
Mary Lynn & Robert Barnette
Allison Bastos
June Bell
Bill Bentley & Alex Carrico
Marybeth Berry
Billy Bishop
Crystal Blackwell
Chauntel Bland
Hans and Lou
Drs. William and Sallie Boggs
Robert Borom
Ann R. Bowles
Mike & Carol Braddock
Andrea Brown
Bryann K. Burgess
Connor Burney
Blakely Cahoon
In honor of Susan Gehlmann
David Campbell
Peter Carnohan
Bonnie Chance
In honor of my granddaughter, Rosemary Buzzell
Kara Cieri
Emily Clelland
Phil & Stacey Cobb
In celebration of Grant Cobb and the children's theater program
Chip and Cortlin Collins
Alex Cone
Dawn Cone
Greer Crow
Vickie E. Davis
Jackie DeWitt
Bill DeWitt
George Dinsmore
Phyllis Dixon
Megan Douthitt
Christopher Eargle
Nick Eberhardt
Ruth Ellen
Mike & Kim Epperson
Kim Etcheson
Kimberly Freeman
Thank you for all you do to bring the arts to life in Columbia!
Alyssa Gamble
Amy Geddes
Ruth Glowacki
Amanda Goins
Felicia Goins
In memory of Will Moreau
Faye Goolsby
Christie Gross
Beth Gross
Todd R. Gustafson
Elisabeth Hammond
Kathy Hartzog
Elizabeth Helmboldt
Barry and Karin Hill
Amanda Hines and Steve Wrona
Ellen Hinrichs
Pat Itter
Betsy Jackson
In honor of Nathan Jackson
Nathan Jackson
Regina Janvrin
In honor of the box office staff!
Tiffany Jones
Edward Kester
Elizabeth Kinney
Cara Koerber
Brigitte Kraushaar
Chris J Kruzner
David LaTorre
Ashley R Leaphart
Keith Marsh
Wydna Martin
Cheryl Martino
Jeni McCaughan
In honor of Lee Martin
Patrick McCormick
David McCree
Kerry McGregor
For all the wonderful shows I've been a part of.
Allison McNeely
Honey's Gang
Christy Mills
In memory of Honey
Matthew Mills
Zanna Mills
Thomas Monahan
June E Nemetz
Norene Family
Robin Norris
Honoring TJ Leitzsey
Toby O'Connor
Kristy O'Keefe
Brenda Owens
In honor of Josie "Kat" Sanders
Craig Parks
Lara Popovich
Caroline Powell
Karen Quinn
Kristen Randall
Kerri Roberts
Chelsea Rudisill & Luke Browder
Gabe and Donna Saleeby
Gina, Robin and Grayson Saviola
Jennifer Scott
Shannon Scruggs
Kendall Scruggs
Thomas Scruggs
Rebecca and Michael Seezen
Jack Seezen
Kathryn Seppamaki
Donald and Alicia Shealy
Toni Sheridan
The Cason Group
Julie Songer Belman
In loving memory of Don Songer
Diana W Stevenson
Kerry Stubbs
Hannah Thompson
John Tighe
Leah Tudor
Stacy Veldman
Megan Walker
Hollis & Nancy Walker
Virginia Walker
Lauren Way
Bailey Weikel-Feekes
In honor of the wonderful cast in Bright Star and Jekyll & Hyde
Carl and Nancy White
Elizabeth & Robert Williams
In memory of Anna Williams
Love,
Elizabeth & Robert Williams
Robert & Penn Williams
Robert E Williams Jr
Michael Willis
Willis Tax & Accounting
Sandra Willis
Christine Wilson
Sadie Wiskes
Cathy Wiskes
Janice and David Yensan