We invited our two leading ladies… Kathy Hartzog and Lee Martin… to share a few thoughts on their road to Yonkers and what it meant to play such an iconic role.
Lee: "Dolly Levi, that's right Mrs. Dolly Levi born Gallagher ~ social introductions, ladies and gentlemen, of excellent family!" This is how we are first introduced to the one and only DOLLY LEVI! What an introduction! Playing Dolly has always been a role that I always wanted after I saw THE Barbara Streisand portray her in the movie as a child. As I began studying Dolly, I realized that she is one amazing woman. She is a hustler, a nurturer, a puppet master, a devoted widow and an all-around woman who wants to be whole again. The loss of her husband changed her life completely. She had to figure things out on her own which led her to become a jack of all trades."
Kathy: "Well, where to start? Late in June, I auditioned for this show and what I consider the role of a lifetime. I researched the character extensively but ultimately came to the realization that the actresses who came before me must have come to the same conclusion as I did. I had to find my own voice. Carol Channing, Bette Midler, Bernadette Peters, Betty Buckley and numerous other big names who performed the role of Dolly through the years were completely different and fresh in their interpretations. Not one was the same as the other! Channing was brash and delightful, Bette Midler was larger than life, Betty Buckley was charming and decided to focus on Dolly's Irish background by using a soft Irish brogue in her performance, whereas Barbra Streisand was decidedly well, Barbra Streisand, using a strong Jewish characterization and New York accent. All of this helped me immensely in knowing what I had to do. I had to be true to myself as an actress but find the sweetness and vulnerability and quiet determination that was inherent in Dolly."
Lee Martin as Dolly Levi ~ GoFlashWin.com
Lee: "I found myself really relating to Dolly in the sense of feeling unease if something were to happen to my spouse. I can also relate to learning how to figure things out on your own. I stopped working to stay home and raise my children. My husband's job is very demanding and has caused us to move around the country more often than most. It has also had us rethink our career paths a few times. That being said, Dolly's acknowledgment of just being tired of constantly being worried about money can be heard in several of her intimate monologues to her deceased husband Ephraim. Although he has passed, he is still very present in her life. She constantly refers to his sayings and asks for him to let her live again!" "Dolly has learned to figure things out the hard way. In that time, she found that she was not necessarily enjoying life and was just living to survive while giving of herself to everyone. In the end, she realizes that is no way to live and so she "decides to rejoin the human race." As a woman and an actor, I admire Dolly's spunk, tenacity and vigor!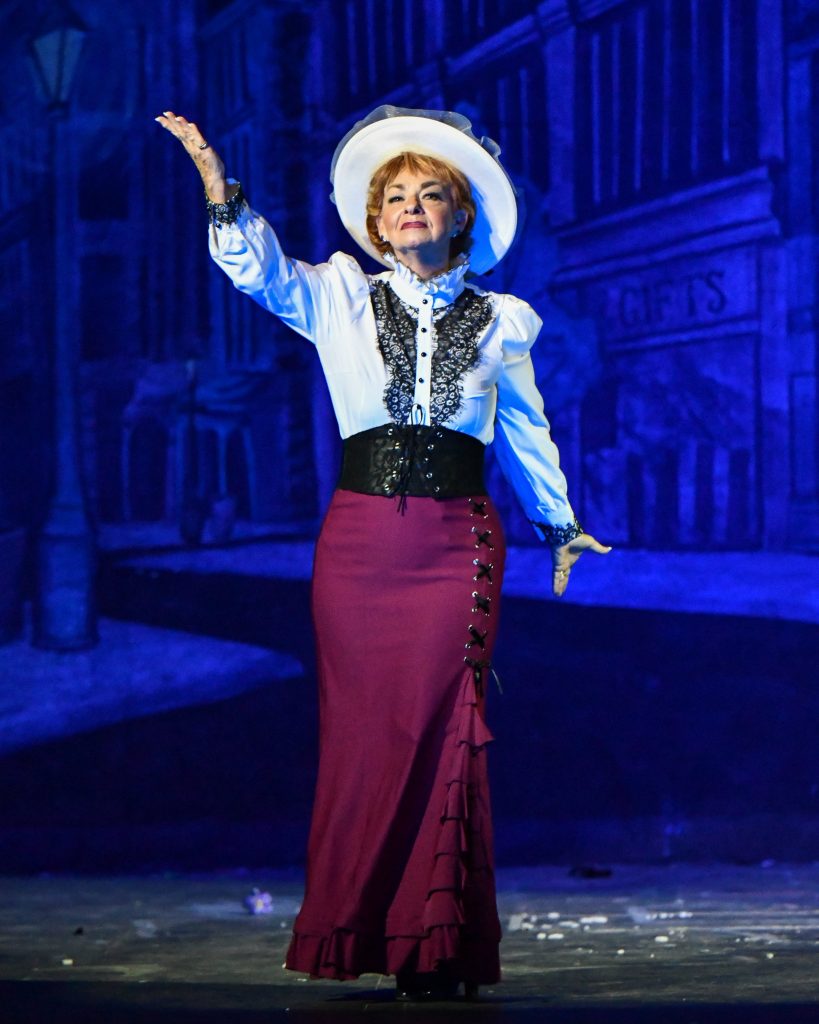 Kathy: "One song that spoke volumes to me that I immediately had an emotional attachment to 'Before the Parade Passes By.' Dolly sings, 'I've got to get in step while there is still time left before the parade passes by.' Wow! That sums up the character so completely and spoke to me on a personal level as well. It's the one time in the entire show that you really see and hear Dolly's vulnerability and see her tenacity. I can absolutely relate to this sentiment on so many levels and I hope that my interpretation of that song carries over the footlights to the audience because, for me, that is the pinnacle of everything I do on stage and in life."
Lee: "I agree with Kathy on the importance of the song, 'Before the Parade Passes By.' I consider it Dolly's moment of enlightenment, her anthem. It articulates all the emotions she has been feeling since the loss of her husband and her desire to live life again. It provides a picture of what she believes life could be if she 'rejoined the human race.' The song is preceded by a monologue she gives to Ephraim begging for him to let her go but she also asks for him to give her away. The song begins as a slow melancholy acknowledgment of what she wants. As the song continues Dolly's excitement grows as she pictures all the wonderful things that can happen with her new take on life. I love this song because it is an anthem for anyone who does not want life to pass them by anymore!
Kathy: "I feel so fortunate to have a someone like Lee Martin share the role with. To have that sisterhood and to share the same challenges and moments of self-doubt with someone who was going through the exact same things I was more than I could have hoped for. Lee said it in an interview once, that it could have felt like an ongoing "call back" or competition  but it didn't because we're both in it together to produce the best show possible and for each of us to find our Dolly voice in our own unique way."