ABOUT THE ARTIST ~ Hans Boeschen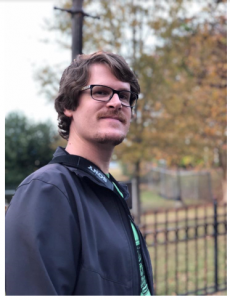 Hans Boeschen, a high school math teacher by day, has made many appearances on the stages at Town Theatre and Workshop Theatre. At Workshop, he appeared in Willy Wonka and the Chocolate Factory as Phineous Trout, Roger and Hammerstein's Cinderella as the Steward, Doctor Dolittle as Matthew Mugg, and Crimes of the Heart as Barnett. Hans made his directorial debut in the Columbia community theatre two years ago with Barefoot in the Park at Workshop Theatre. He has also directed Shrek Jr: The Musical for Workshop last June. At Town Theatre, Hans has appeared as The Professor in South Pacific, Naphtali in Joseph and the Amazing Technicolor Dreamcoat, the Park Keeper in Mary Poppins, Mr. Smythe in A Christmas Carol: The Musical, and most recently appeared as Amos Calloway in Big Fish" Hans makes his directorial debut at Town Theater this season with Buddy: The Buddy Holly Story.
Hans is a self-taught painter after having picked up some oils, brushes, and a Bob Ross instructional book 7 years ago. He finds painting as a hobby a great way to relieve stress and reconnect with his creative side.
Title:  "Life of Stages"
Inspiration for the work:  Growing up in the theatre and continuing the cycle by sharing it with the family.
Medium:  Acrylic on canvas  Size: 10" x 20"
Bid on Hans' piece here ~ or check out all of the pieces here!