Guest blog by Chip Collins
So what do you do when you are (arguably) the lead character in a musical, but you don't sing any of the songs?
You enjoy the ride.
When I first saw that Town Theatre was going to produce Million Dollar Quartet, I immediately thought, "I want to be Elvis."  There was a reason for this – while playing Sandy in Elvis Has Left the Building back in 2014, my character was hypnotized and "became" Elvis.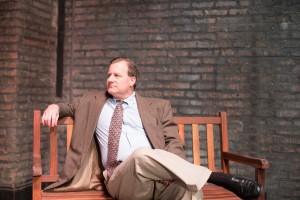 Seemed like a natural progression, right?
Until I read that the characters have to play their own instruments. Uh-oh. The last time I touched a guitar was when someone taught me how to play the first couple of bars of "Hotel California" in high school (no, I don't remember how to play it now).  So, after obtaining a perusal script, I discovered that the character of Sam Phillips was perfect for me.  And, boy, am I glad I made it, because these fellas (and lady) that are the real stars of this show are awesome.  Our directors, Shannon Wills Scruggs and Jeremy Hansard, have put together an incredible group.
Ladies first.  You can't have a bunch of men sitting around in a group without a woman to keep them straight, and Sheldon Paschal certainly keeps all the guys in line.  She brings a sultriness to the studio that keeps all of the guys just a touch off center (which is where artists are supposed to be, right?), and her rendition of "Fever" brings another dynamic to the show.
I'm not the only one who was hypnotized in Elvis Has Left the Building. My partner in crime, Charlie Goodrich, had that misfortune (or perhaps, fortune?) as well.  But here, Charlie has traded in the white one-piece jumpsuit for an all-black wardrobe, playing a dead-on likeness of Johnny Cash.  There are times when I close my eyes and listen, and I am really not sure whether I'm listening to Charlie or Johnny, and that is a testament to Charlie's talent.
In this show, Elvis is played by Matthew Harter, who joined us later on in the process, and I am SO glad he did.  There are some people you just look at or listen to the first time, and you know they're special.  Matthew is one of those people.  Even though he is the youngest person in our cast, you would never know it.  His voice is just pure, and he has really channeled all of the things that made Elvis the superstar that he became.
Of the four superstars in the Million Dollar Quartet, the one I knew the least about was Carl Perkins.  However, after watching and listening to Alex Cowsert play him night after night, I want to know more.  When I hear Cash, Elvis, and Jerry Lee Lewis, it's only natural to compare the people playing them to the actual person.  Well, when I listen to Carl Perkins, I will forever compare him to Alex. When he is playing and singing, the boy OWNS the stage.  He performs with such a conviction that you want to focus on him and have him keep playing.
Jerry Lee Lewis?  The man was overflowing with energy, and Jeremy Reasoner is no different.  We've seen his singing talent on stage in Les Miserables and The Little Mermaid, but he will blow you away when you see him on the piano.  There are some people who are musically talented in just about every way possible, and he is one of those people.  He's our de facto musical director on stage, and he really keeps things together.
I would be remiss if I did not talk about our killer rhythm section/studio band. Mikey Lowrey gives us a great steadiness as our drummer (and he chews his gum on the beat, too).  Caleb Everson on guitar is such a talented guy with a quiet self-confidence about him, and you never know what he may be playing during down times (personally, I've heard both the theme song to "Jurassic Park" and Jimmy Eat World's "The Middle" – goodness knows what else he has thrown in there.  And Landon Osteen on the stand-up bass and acoustic guitar really makes these songs special.
It is truly a blessing to be able to sit back and hear these folks perform.  Come to think of it, I'm glad I don't have to sing.
It lets me enjoy the ride.