Town Theatre is excited about our 99th season — complete with something for everyone. Beautiful music, holiday cheer, heartwarming stories, a little mystery and toe-tapping fun! Each of these shows is NEW to Town — a hard task to accomplish when you are our age! Purchase your 99th season membership BEFORE JUNE 1 and enjoy the same price that you paid for the 98th!
Purchase HERE or call 803-799-2510 12 noon to 5 PM.
Based on the Victor Hugo novel and songs from the Disney animated feature, The Hunchback of Notre Dame showcases the film's Academy Award-nominated score. The musical begins as the bells of Notre Dame sound through the famed cathedral in fifteenth-century Paris. Quasimodo, the deformed bell-ringer who longs to be "Out There," observes all of Paris reveling in the Feast of Fools. Held captive by his devious caretaker, the archdeacon Dom Claude Frollo, he escapes for the day and joins the boisterous crowd, only to be treated cruelly by all but the beautiful gypsy, Esmeralda. Quasimodo isn't the only one captivated by her free spirit, though – the handsome Captain Phoebus and Frollo are equally enthralled. As the three vie for her attention, Frollo embarks on a mission to destroy the gypsies – and it's up to Quasimodo to save them all. A sweeping score and powerful story make The Hunchback of Notre Dame an instant classic. Audiences will be swept away by the magic of this truly unforgettable musical.
---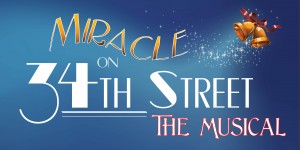 A holiday classic from the writer of the musical theatre classic, The Music Man!, and based on the movie of the same name, Miracle on 34th Street features a book and score by none other than Meredith Willson. Single mother, Doris Walker, doesn't want her six-year-old Susan's head filled with romantic notions. Their neighbor, Fred Gailey, tries to woo Doris by charming Susan and taking her to see Santa Claus at Macy's, where Doris works. Doris is not impressed, but when it turns out that Macy's Santa may, in fact, be the real Kris Kringle, a wave of love spreads across New York City that melts even the most cynical hearts. This joyous, heartwarming musical is the perfect holiday treat!
---
Based on the celebrated novel by Daniel Wallace and the acclaimed film directed by Tim Burton, Big Fish centers on Edward Bloom, a travelling salesman who lives life to its fullest… and then some! Edward's incredible, larger-than-life stories thrill everyone around him – most of all, his devoted wife Sandra. But their son Will, about to have a child of his own, is determined to find the truth behind his father's epic tales. Overflowing with heart, humor and spectacular stagecraft, Big Fish is an extraordinary new Broadway musical that reminds us why we love going to the theatre – for an experience that's richer, funnier and BIGGER than life itself.
---

It is December 1936 and Broadway star William Gillette, admired the world over for his leading role in the play Sherlock Holmes, has invited his fellow cast-members to his Connecticut castle for a weekend of revelry. But when one of the guests is stabbed to death, the festivities in this isolated house of tricks and mirrors quickly turn dangerous. Then it's up to Gillette himself, as he assumes the persona of his beloved Holmes, to track down the killer before the next victim appears. The danger and hilarity are non-stop in this glittering whodunit.
---
The 1950s are out, and change is in the air! Hairspray, winner of eight Tony Awards, including Best Musical, is a family-friendly musical, piled bouffant-high with laughter, romance and deliriously tuneful songs. It's 1962 in Baltimore, and the lovable plus-size teen, Tracy Turnblad, has only one desire – to dance on the popular "Corny Collins Show." When her dream comes true, Tracy is transformed from social outcast to sudden star. She must use her newfound power to dethrone the reigning Teen Queen, win the affections of heartthrob, Link Larkin, and integrate a TV network… all without denting her 'do! You can't stop the beat in this big and bold musical about one girl's inspiring dream to dance.