Annie Jr. is a production of Town's youth theatre program. Students meet once a week for a ten-week period and then come together for two weeks of full ensemble rehearsals. The result? A fantastic and energetic show which will delight audiences of all ages!
Based on the popular comic strip and adapted from the Tony Award-winning musical, Annie Jr. features everyone's favorite redhead. With an equal mix of pizzazz and positivity, little orphan Annie is easy to fall in love with despite her meager start in a 1930s orphanage under the watch of Miss Hannigan.
Annie and her mutt, Sandy, are determined to find the parents who abandoned her years ago.  Ultimately she finds a new family with Daddy Warbucks and Grace Farrell.
Tickets are $12 for adults and $10 for youth (17 and under) and seniors ($65+).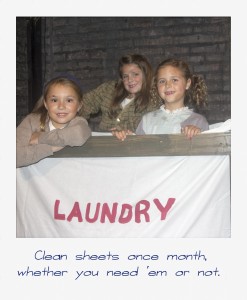 Shows times are ~
~Fri. Nov. 10 at 7 PM
~Sat. Nov. 11 at 3 PM
~Sat. Nov. 11 at 7 PM
~Sun. Nov. 12 at 3 PM
Call our box office beginning Monday, Oct. 30 at 12 noon for tickets OR go online at towntheatre.com.
Annie Jr. is directed by Jamie Harrington, with Megan Douthitt as assistant director and Jeremy Reasoner as music director. Lori Stepp is designing the costumes with Danny Harrington on set and lighting design. Town's youth theatre program is generously sponsored by Colonial Life.