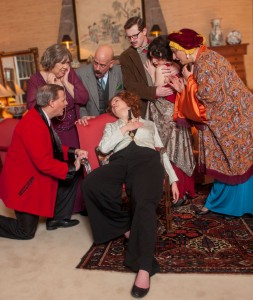 It is December 1936 and Broadway star William Gillette, admired the world over for his leading role in the play Sherlock Holmes, has invited his fellow cast-members to his Connecticut castle for a weekend of revelry. But when one of the guests is stabbed to death, the festivities in this isolated house of tricks and mirrors quickly turn dangerous. Then it's up to Gillette himself, as he assumes the persona of his beloved Holmes, to track down the killer before the next victim appears. The danger and hilarity are nonstop in this glittering whodunit.
Starring in Town's presentation of this mystery thriller is Chip Collins (Million Dollar Quartet) as William Gillette. Karen Herschell (My Fair Lady) portrays his elegant, though a bit foggy mother Martha. Clayton King (The Addams Family) takes on the role of Felix Geisel, the theatre company's character actor with Sarah Strobolakos (You Can't Take It With You) as his wry and outspoken wife, Madge. Town newcomer Kira Nessel, appears as Aggie Wheeler alongside William Ellis (The Little Mermaid) who plays her newlywed husband Simon Bright. Writing her way into the story line is Zsuzsa Manna (You Can't Take It With You) as Daria Chase, celebrity columnist, with Allison Allgood (Les Misérables) as Inspector Goring. By turns, witty and incisive, then suddenly lost and dim, Goring is disarming in her inability to be defined. Always off the mark, and yet never far from the truth, somehow she always gets her man… Or woman.
The show is directed by Milena Herring with assistance from Jeffery Schwalk, stage management from Brandi Byers, costumes by Jillian Carey and technical design by Danny Harrington.
The Game's Afoot is generously sponsored by