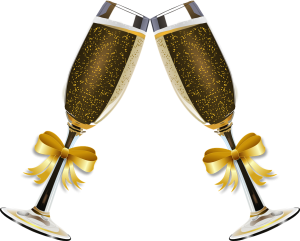 It's Party Time! 
The Board of Governors invites you to toast the next century of Town Theatre! After the final bow on Friday, September 6, join the cast and crew of Hello, Dolly! for a celebratory toast. We'll provide the food as well as champagne. You're sure to enjoy some of our favorite restaurants and their delicious goodies.
Many thanks to Lizard's Thicket, Tio's Mexican Cafe, Zoës Kitchen
and The Happy Cafe for their support. And, of course, we could not
do it without our friends at Synovus. Come celebrate with a glass of
champagne as we toast our 101st! Cheers!
---
"Dinner and a Show" opportunities with Villa Tronco & The McCutchen House
Purchase your show tickets (online, in person or via phone) and then call the box office to make your dinner reservation.
Villa Tronco ~ prior to any evening performance
Your choice of chicken, vegetable, seafood or pasta dish. Includes salad, homemade bread, dessert choice and a glass of Prosecco.
Purchase your tickets for the show and then call the box office to make your dinner reservation. Or, make your dinner reservation online, if you choose.
Arrive at 6:00 PM at Villa Tronco. After you eat, come to Town for the show. Curtain is at 8:00 PM.
The McCutchen House ~Thursday, September 12 ONLY
Choice of Kansas City Strip or Flounder stuffed with lump crab
Includes appetizer, House salad, soup de jour, chocolate walnut
pie and a glass of wine.
5:45 PM OR 6:00 PM dinner reservation; diners will choose
entree upon making reservation.
Details: $35/person includes tip, taxes & gratuity; show tickets must be for the same day as dinner; space is limited and menus subject to change.