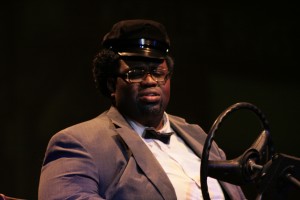 We sat down this week to interview actor Chadwick Pressley (Hoke Colburn in Driving Miss Daisy) to get a better look at his personal experiences backstage and onstage. Many people know the story line of Driving Miss Daisy from the movie – an African American chauffeur is hired to help Daisy Werthan, a 73-year old white Jewish widow in a time when there is an abundance of racial barriers and prejudices. The stage production of this story allows the audience to focus on the trials that Daisy and Hoke face through their nontraditional friendship. Let's see what Chadwick had to say!
Q: What is your theatrical background?                                                            
A: I've done several shows – Be a Lion – a brand new production out of Charlotte, NC and Five Guys Named Moe at Workshop Theatre to name a few. I really enjoyed playing the lion in Be A Lion because it gave me a chance to play an animal, act, sing and dance.
Q: In Driving Miss Daisy you play a character that faces many challenges. Do you find that the challenges he faces ring true in your real world?                                                                                                                  
A: No, not my world but I've heard about racial barriers from my grandparents, so I can relate to the story through their eyes. They told me that you have to get an education in order to make it in this world. They also imparted that you need to do your best in everything that you do.
Q: What is your favorite line or moment from the show?                    
A: When Hoke says to Mr. Werthan, ""Keep them ashes off my upholstery."
Q: Have there been any great learning experiences?                            
A: I have learned so much about stage acting, projecting and secrets to learning lines. Take your script with you everywhere you go and constantly have your friends and family going over lines with you. Write your parts down and that will help set it to memory
Q: What have been your greatest challenges through this process?
A: Working with such a small cast and having to learn a lot of script, with a broken English dialect/southern drawl. The broken English was the dialect of most African Americans during that time and they had no formal education. With Hoke being an illiterate man, he spoke in a way that reflects a more carefree and no-nonsense type of language.