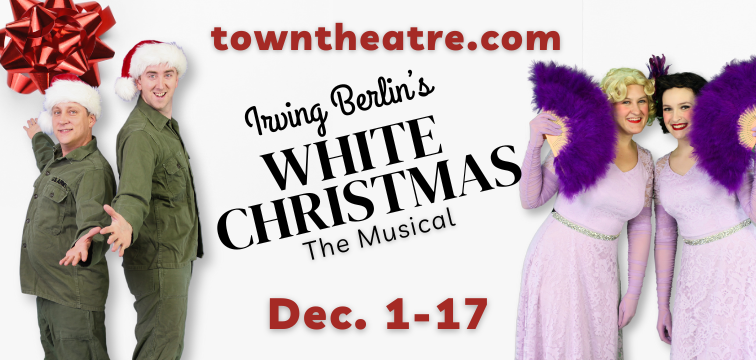 'Tis the season! There's even more reason to be jolly as the beloved classic, White Christmas arrives at Town. We follow two show biz buddies, Bob Wallace and Phil Davis, who mount a production in a Vermont inn with the hope of saving the business for their former military commander. In the process, they find their perfect mates in the marvelous sister act of Betty and Judy Haynes.
Wallace and Davis are portrayed by Scott Vaughan (The Music Man) and David LaTorre (The Wizard of Oz). Town newcomer Kayla Nagy Welch takes on the role of Betty with Grace Sawicki (42nd Street) playing her sister, Judy. Bill DeWitt (The Music Man) barks orders as Henry Waverly, the retired General who finds himself in a difficult financial situation. Barking orders of her own is Martha Watson, played by Kathy Hartzog (Always…Patsy Cline), the innkeeper and self-appointed busybody. Grace Bender (A Christmas Story: The Musical) and Sadie Wiskes (Matilda) share the role of the General's granddaughter, Susan. Richard Fisher (The Sound of Music) takes a turn as the inn's hired help, Ezekiel, with Nathan Dawson (Baskerville) adding his own over-dramatic flair as Mike, the company stage manager. Throw in brassy chorus girls, Rita and Rhoda, played by Kristy O'Keefe (Mamma Mia) and Megan Walker (Hello, Dolly!) and fast-talking Army-buddy-turned-producer, Ralph Sheldrake, taken by Davis Herndon (The Wizard of Oz), and you have the perfect recipe for a holiday treat!
We're "Counting our Blessings" with an amazing ensemble including former Town "Greasers" Emily Awalt, Alex Cowsert and Lee Saxton. Fancy footwork is courtesy of performers from The All Night Strut like Maggie Baker, Ashley Epperson, Lexi Narry and Kendall Scruggs. Making the trip to Vermont from the land of Oz is Agnes Babb, Hans Boeschen, Abby Gamble, Phoebe Jenkinson, Christy Shealy Mills, Leah Tudor and Alyssa Wilson. Town veterans Robin Blume (Mary Poppins), Annie Edmonds (When Christmas Comes to Town), Eliza England (A Christmas Story: The Musical) and Audrey Johnson (Stepping Out of Our Comfort Zone) join Catherine Herndon, Joelle Romeus and Bethany Truel, in their Town debuts to say, "Happy Holidays to You!"
Don't miss this production featuring some of the most brilliant songs to come from the pen of Irving Berlin including "Blue Skies," "Sisters," "I Love a Piano," and "How Deep is the Ocean." And, of course, there is the show's title song, "White Christmas." It is never too early to start planning for the holidays – be sure that this show is on top of your Christmas list!
The show runs December 1-17 with 7:30 PM performances Thursdays through Saturdays and 3:00 PM Sunday matinees. Tickets go on sale to the public Monday, November 20. Town Theatre members can get their tickets in advance. Visit here for those dates.
White Christmas is directed by Shannon Wills Scruggs, with musical direction by Davis Herndon and choreography by Joy Alexander. Billy Bishop serves as costumer with set design by Bob Branham, light design by Jeremy Hansard and stage management from Chelsey Art. White Christmas is generously sponsored by Burr Forman, First Citizens Bank and Mast General.