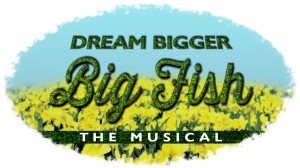 Audition for BIG FISH!
Big Fish centers on Edward Bloom, a traveling salesman who lives life to its fullest… and then some! Edward's incredible, larger-than-life stories thrill everyone around him – most of all, his devoted wife Sandra. But their son Will, about to have a child of his own, is determined to find the truth behind his father's epic tales. Overflowing with heart, humor and spectacular stagecraft, Big Fish is an extraordinary new Broadway musical that reminds us why we love going to the theatre – for an experience that's richer, funnier and BIGGER than life itself.
Auditions will be held Sunday, Sept. 24 and Monday, September 25. Those auditioning for the role of Young Will should arrive ready to begin at 7:30 PM. Other auditionees (ages 15 and up) will begin after the Young Will auditions conclude, approximately 8:00 PM or earlier. Save yourself some time in line and Big Fish audition form.
To prepare: please bring 36 measures of a song that best displays your vocal talent. Please bring sheet music as an accompanist will be provided. Dress comfortably for movement and bring dance shoes if you have them available. Time permitting, cold readings from the script may take place.
Big Fish will be directed by Allison McNeely with Musical Direction by Amanda Hines and choreography by Shannon Scruggs. The show runs Jan. 19 to Feb. 4. Light rehearsals will begin in October and pick up in intensity the closer we get to the show.  Ample time will be allowed for Thanksgiving, Christmas and New year's holidays.
Roles Available:
Edward Bloom – a loving husband and father who leads a complex imaginary life with many fantasy friends; requires a singer, dancer who ages from 18 to 60+; a huge heart, a great sense of humor and a vivid imagination (bari-tenor, G2 to G4).
Sandra Bloom – Edward's wife, a loving wife who completely understands her husband and who seeks and believes in the possibility of reconciliation between her husband and son. This is the leading female role that requires an actor who ages from 18 to 60+ and who is both a strong actress and singer – and very good mover. (soprano with mix/belt, G3 to E5)
Will Bloom – Edward's son, a realist and a pragmatist; and the polar opposite of Edward. His journey of reconciliation with his father is the story of the musical. This is the second male lead and requires a strong actor who sings beautifully. (tenor, C#3 to G4)
Jenny Hill – the other woman, one of Edward's early childhood friends who he forgets but then who later becomes the recipient of his kindness. This supporting role also requires a good actress, singer, and mover who ages from 18 to 60+. (mix/belt to E5)
The Witch – the earliest and most fantastic of Edward's "imaginary" acquaintances, who shows him how he'll die. This supporting role requires a strong, singer-dancer with commanding acting skills. (mezzo with high belt, useable F3 to F5)
Josephine Bloom – Will's wife, a lovely young woman who provides balance for Will's pragmatism. With Sandra, she supports and helps guide Will's journey toward reconciliation with his father. This supporting female role requires a strong actor-singer. (mix/belt to C#5)
Young Will – 8-12 years old – The young version of Will is intrigued by his father's stories, but already starts to doubt their truth. With his father always on the road, he feels he is the man of the house (voice B2 to C5)
Karl the Giant – a giant, one of Edward's fantasy friends. This supporting role requires an actor who is 6'6" or over. Through Edward's friendship, he grows from being a 'beastly' outcast to a highly successful businessman. This supporting role requires an actor who acts, sings, has an appreciation for comic irony, stilt walks, and dances. (bass, A3 to D4)
Amos Calloway – a werewolf, another of Edward's fantasy friends. Masquerading as a ringmaster of a broken down circus, he begins as Edward's tormentor but then, through Edward's acceptance, he accepts himself and becomes highly successful. This supporting role requires an actor-comic who acts, sings, and moves well. (baritone, C3 to F5, touches a G5)
Don Price – Edward's childhood frenemy, an early buddy, bully, and rival for Sandra's hand. This is a supporting role requires a strong actor with a comic sensibility, a good singer and has movement skills. (baritone, C3 to F#4)
Zacky Price – Don's younger brother (high school, college, and aging to later). Zacky is somewhat nerdy and easily-spooked, a shadow of the older brother he idolizes. He ultimately becomes instrumental in helping save the town of Ashton. The performer needs STRONG comic chops. Vocal range: Tenor to sustained A-flat.
Ensemble – Wedding Guests, New Yorkers, Citizens of Ashton, Circus Performers, Alabama Lambs
Future AuditionsBig Fish audition form
The Game's Afoot
Directed by Milena Herring
AUDITIONS:
Sunday, December 3 & Monday, December 4 at 7:30 PM
Hairspray
Directed by Cindy Flach
Musical direction by Greg Boatwright
Choreography by Heather Stokes
AUDITIONS:
Sunday, January 21 & Monday, January 22 at 7:30 PM