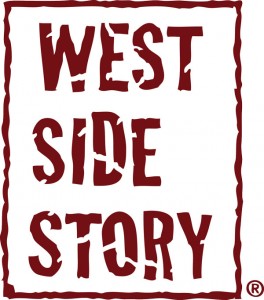 WEST SIDE STORY
Don't miss the chance to be a part of West Side Story – the opening show for Town Theatre's centennial season which also coincides with the 100th birthday of Jerome Robbins, director and choreographer of the original Broadway production of the show.
Auditions will be held Sunday, June 24 and Monday, June 25 at 7:30 PM at Town Theatre.
Town is honored to have David Swicegood direct on the 20-year anniversary of his serving as director for the 1998 production. Michael Simmons will serve as musical director. Joy Alexander will re-stage the choreography from Town's 1998 production by Maurice Brandon Curry (current Artistic Director of the Eglevsky Ballet).
Adults and teens ages 14 and up should be prepared to sing 16 bars from a song of your choice, not necessarily from the show. Please dress comfortably for a dance audition and bring dance shoes (ballet or jazz) if you have them.
If you are interested in auditioning for one of the 4 non-singing male roles (denoted below with a *), please email town@towntheatre.com to get on a list to be seen at callbacks.
All readings will be held during callbacks, unless time permits reading on these nights.
Show dates are September 14-30 with 8:00 PM shows on Thursdays through Saturdays and 3:00 PM Sunday matinees.
Download the West Side Story audition form here!
All roles are available with character/descriptions from the MTI website are below:
Riff: A spritely, quick-tempered leader. He seeks to eliminate the Sharks and establish his own gang's dominance. Tony's best friend, he is eventually murdered by Bernardo. Age: 25 to 30. Vocal range Bb2 to G4.
Tony: A romantic young man and former leader of the Jets, he has found a new lifestyle now. Tony finds himself violently torn between his friendships and love. Falls in love with Maria and meets an untimely death. Genuinely sweet and sincere. Age: 25 to 30. Vocal range Bb2 to Bb4.
Bernardo: A proud, strong, handsome Puerto Rican man. Bernardo seeks to carve out territory as a sense of identity for he and his friends. Maria's brother and Anita's boyfriend. Leader of the Sharks. Age: 25 to 35. Vocal range Bb2 to Eb4.
Maria: A hopeless romantic and innocent young girl. She falls in love with Tony and finds herself at the center of the violent conflict between the two gangs. Bernardo's sister. Puerto Rican. Age: 18 to 21. Vocal range Bb3 to C6.
Anita: Feisty and assertive. She dispenses "older sister" advice to Maria and tries to shield her from the dangers of the gangs. Bernardo's girlfriend and Maria's friend. Puerto Rican. Age: 25 to 30. Vocal range F3 to D5.
*Chino: An angry and, at times, naive Shark who turns murderous and vengeful. Suitor to Maria and friend of Bernardo's. Age: 20 to 25.
Anybodys: A spunky tomboy who is desperate to become a member of the Jets. The other Jets mock her for her ambitions, but generally appreciate her company. Full of energy and heart.
Age: 15 to 25.
*Doc: The owner of the candy store where the Jets hang out. He tries to guide the Jets youthful angst and provides a safe haven for Tony. Old fashioned and wise in his ways. Age: 60 to 75.
*Schrank: A local police detective frustrated by the ongoing violence between the Jets and Sharks. Blunt, brash, and unapologetic. Age: 40 to 55.
*Krupke: The local beat cop. He has no patience for the gangs' conflict and tries to keep tensions from erupting between them. Regularly mocked by the local gangs. Age: 30 to 60.
Ensemble
Jets, Sharks, Jets Girls, Sharks Girls
Remember ~ save time in line ~ Download the West Side Story audition form here!