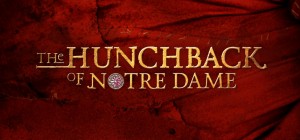 Auditions for The Hunchback of Notre Dame will be held on Sunday, June 18 and Monday, June 19 at 7 PM for ages 14 and above. Strong singers are needed for this musically engaging show. Please bring 16 bars of music to be played by an accompanist. We are also searching for talents including juggling and acrobatics. Rehearsals will begin mid-July and the show will run Sept. 22 to Oct. 8. Hunchback  and is under the direction of Jamie Harrington with music direction by Michael Simmons and choreography by Tracy Steele.
Check back soon to download your audition form!
All roles are available including:
Claude Frollo
Archdeacon of Notre Dame Cathedral and the most powerful cleric in Paris, he is the reluctant caretaker of Quasimodo. He will do whatever it takes to rid the city of the gypsy "vermin," even as he lusts after Esmeralda. Calculating, manipulative, and obsessive. Male age 40 to 50; vocal range E2 to Bb4.
Jehan Frollo
Claude's reckless younger brother. With the gypsy Florika, he fathers Quasimodo, who he leaves in his brother's care. Wild, passionate, and strong-willed. Male age 20 to 30; vocal range F3 to Eb5.
Florika
A gypsy and Quasimodo's mother. Female age 20 to 30; vocal range E4 to F#5.
Father Dupin
A priest of Notre Dame and Claude and Jehan's guardian. Male age 40 to 60; vocal range C3 to A3.
Quasimodo
The deformed bell-ringer of Notre Dame and Claude Frollo's charge. Lonely and staunchly obedient to Frollo, he possesses a vivid imagination that brings to life the bells and gargoyles of the cathedral. Despite his shyness and uncertainty, he quickly befriends Esmeralda. Big-hearted, and brave when need be. Male age: 20 to 30; vocal range Bb2 to Bb5.
Clopin Trouillefou
The clever and charismatic King of the Gypsies. An air of mystery surrounds Clopin, who often leaves the scene in a puff of smoke. As the master of ceremonies for the Feast of Fools, he is witty and playful, but he boasts a darker, serious nature when not performing for the crowd. Male age 30 to 40; vocal range D3 to F#5.
Captain Phoebus de Martin
Returning to Paris after serving in the war, Phoebus takes up his new position as Captain of the Cathedral Guard. Overconfident yet charming, this handsome, strong soldier makes the ladies swoon, yet his moral compass is also strong, and he openly defies the corrupted Frollo. Male age 25 to 40; vocal range A2 to Ab4.
Lieutenant Frederic Charlus
Lieutenant of the Cathedral Guard and loyal friend to Phoebus; Male age 20 to 30.
Esmeralda
A beautiful and free-spirited gypsy who possesses the strong sense of justice and morality that Frollo lacks. Compassionate, she frees Quasimodo from the frenzied mob at the Feast of Fools and, against her better judgment, falls for the cocky Phoebus. Female age 20 to 30; vocal range E3 to D5.
King Louis XI
King of France, nicknamed the Prudent. Male age 40 to 50.
Tribunal
A judicial officer. Male age 20 to 50; vocal range G2 to E4.
Madam
Owner of a brothel and safe haven for gypsies.  Female age 35 to 50.
Saint Aphrodisius
A stained-glass image that comes to life. Male age 30 to 50; vocal range B3 to E4.
Congregation
Gypsies, gargoyles, soldiers, and citizens of Paris. Both male and female.
Choir
Both male and female.