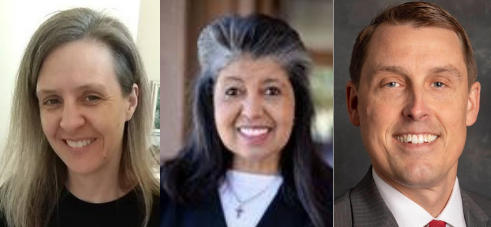 Town Theatre is pleased to welcome Pamela Ahearn-Chalfant, Dr. Felicia L. Goins and Craig Parks to the Board of Governors for the Columbia Stage Society.
Pamela Ahearn-Chalfant began volunteering at Town Theatre 12 years ago when her daughters became involved on stage. This "family affair" continued as she and her girls have performed, crewed, assisted with classes, and stage-managed at Town. Pamela's professional experience has been in teaching, leadership development and sales. She earned her undergraduate degree from the University of Michigan (BA Ed. '88), and her graduate degree from the University of South Carolina (MA School Leadership '99). Pamela taught in schools in Los Angeles County, Ann Arbor, Michigan, and South Carolina, and she also homeschooled her children for 15 years.  Pamela has long been involved in nonprofit work, volunteering for a variety of nonprofits around the country.  Some of her favorite nonprofits besides Town Theatre include the Los Angeles homeless shelter Jovenes and Atlanta-based Curing Kids Cancer.
Dr. Felicia L. Goins was born and raised in Washington, D.C.  She is a graduate of George Washington University with a Bachelor of Arts Degree and she received her Doctor of Dental Surgery from Howard University College of Dentistry. Dr. Goins completed her advanced training in Pediatrics at Children's Hospital National Medical Center and received her Certificate of Pediatric Dentistry from Georgetown University School of Dentistry. She is well decorated having earned many accolades and honors in dentistry. Dr. Goins is extremely dedicated to the community. She co-founded the Links Inc. Dental Sealants Program at W.A. Perry Middle, the Health Reach Program at Prisma Health Tuomey Regional Medical Center and has served on many boards including the YWCA of the Upper Lowlands, Sumter Museum of Art, Tuomey Hospital Foundation, Kershaw County Historical Society, Heathwood Hall Episcopal School and The Columbia Chapter of Links. She was also a Board member of the University of South Carolina Commission on Higher Learning and continues to be a member at Wake Forest University College Board of Visitors. In 2006, Governor Mark Sanford appointed Dr. Goins to the South Carolina State Board of Dentistry where she served until 2015. Since 2004 she has been a member of the State Dental Board Disciplinary Panel. For the past 16 years, Dr. Goins has administered the Pediatric Dental Specialty Examination for the South Carolina State Dental Board. She also serves on the Executive Board of the South Carolina Ac of Pediatric Dentists and has been a member of the South Carolina Dental Association Medicaid Ad Hoc Committee since 1999.  Dr. Goins has been a proud sponsor of March of Dimes and the Special Olympics for many years. She and her family established the Will Moreau Goins Memorial Fund at Town Theatre in honor of her late brother who performed at Town for 20 years.
Craig Parks is Director of Public Affairs and Advocacy for the University of South Carolina, serving as a link between the university system, elected officials and other stakeholders across the state, helping to match the university's strategic plan with the needs of the South Carolina.  Prior to joining USC in 2018, Craig served as Assistant Director for Tax Policy for the South Carolina Senate Finance Committee and was the committee's Senior Budget Analyst for Higher Education, capacities in which he was responsible for state tax policy and higher education finance analysis and development. In 2009, Craig was selected as lead staffer for the South Carolina Tax Realignment Commission, an independent blue-ribbon panel charged with assessing the effectiveness of the state's tax structure. Before moving to the State Senate in January 2006, Craig was a Fiscal Policy Analyst with the SC Board of Economic Advisors, Budget and Control Board from 2000 to 2005, and he also worked as a Labor Market Analyst at the SC Department of Employment and Workforce from 1999 to 2000 after finishing graduate school. Craig received his bachelor's degree, cum laude, in Government from Wofford College and his master's degree in Public Administration from the University of South Carolina. In 2010, Craig was named Wofford College "Young Alumnus of the Year" and in 2011, was appointed by Richland County Council to serve on the Hospitality Tax Advisory Committee, a committee on which he served for many years, including serving several terms as Chairman. Craig is married to Amy, his wife of 19 years, and they have four children, Anna Grace (14), Coleman (11), Addyson Virginia (8), and Margaret Heyward (1).