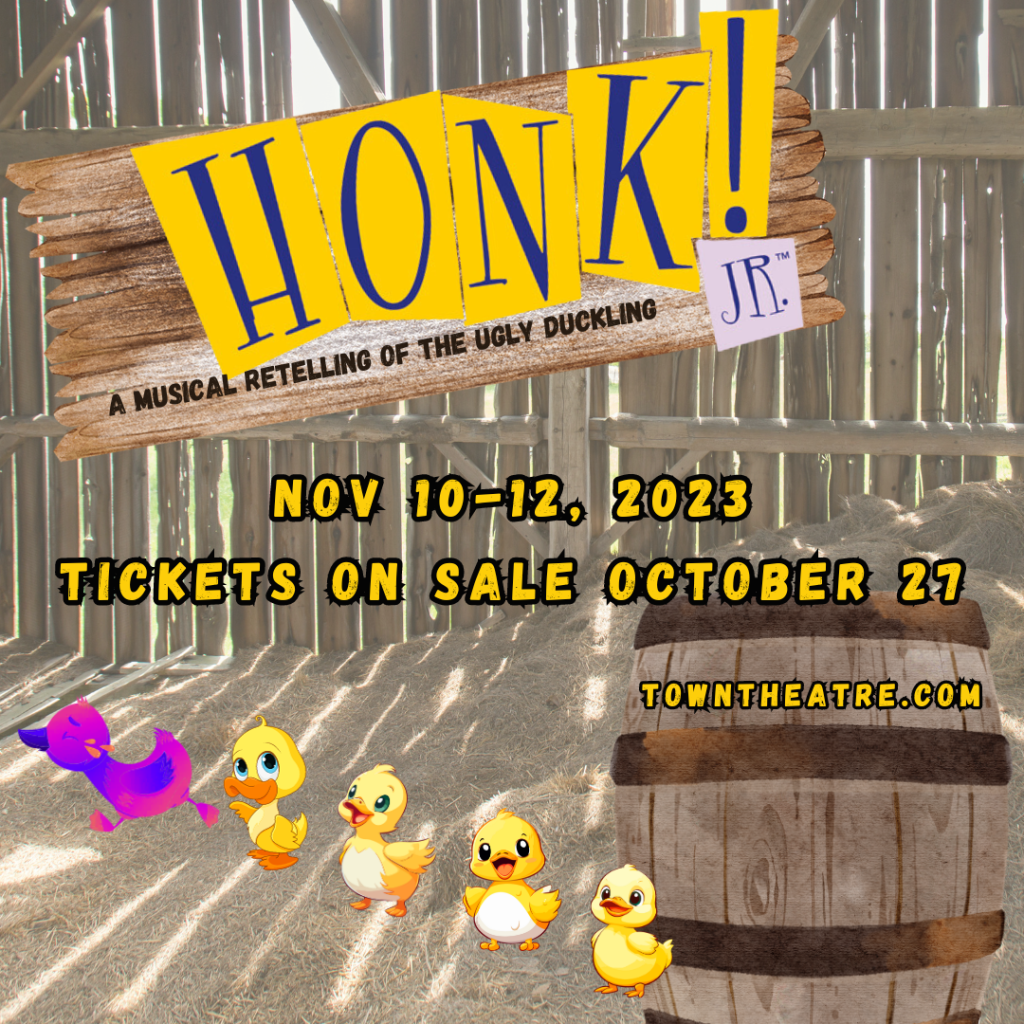 A musical reinvention of Hans Christian Anderson's The Ugly Duckling with humor, wit and a flock of unique characters who discover being different is not a bad thing to be.
The show is a product of our Fall 2023 Youth Theatre Traditional Students. Be sure to get tickets for the correct performance. Show dates and classes listed below.
Tickets are available Friday, Oct. 27 starting at 12 noon. Visit HERE.
Monday/Tuesday classes
appearing
Fri. Nov 10 at 7 PM
Sat. Nov. 11 at 3 PM
Wednesday/Thursday classes
appearing
Sat. Nov. 11 at 7 PM
Sun. Nov. 12 at 3 PM
Drake
Zachary Hammond
Naomi Houghton
Turkey
Glenn Scott
Alyssa Kelley
Henrietta
Annie Edmonds
Madeline James
Maureen
Olivia Hite
Phoebe Jenkinson
Ida
Addie McDuffie
Sadie Way
Cat
Eliza England
Analiese Price
Grace
Soren Rochester
Ella Coleman
Billy (Duckling)
Bennett Page
Mary Dubose Gamble
Beaky (Duckling)
Ella Daniel
Evy Billingsley
Downy (Duckling)
Molly Caskey
Grace Shand
Fluff (Duckling)
Sean Granger
Julie Ryan
Ugly
Claire Fancher
Davis Way
Jay Bird
Kellar Harper
Zoey Land
Greylag
Cash Conroy
Ian Millus
Dot
Sawyer DeBacker
Molly Adams
Barnacles
Charlotte Warren
Kennedy Lawler
Pink Foot
Delaney Good
Victoria Sorensen
Snowy
Emily Culp
Kylee Crum
Goose Squadron
Emma Harrison
Allie Powell
Emma Mitchell
Cecilia Shazly
Jordan Rogers
Charlee Dupuis-Haber
Mia Wheeler
Charlie Powell
William Germann
Copeland McCoy
Lucy Shapiro
Maggie Hall
Penny
Madeline Watson
Louisa White
Bullfrog
Cole Dewar
Alex Auld
Mother Swan
Grace Kisner-Drennan
Heidi Millus
Father Swan
Remi Ince
Lydia Klausli
Bewick
Cameron Mitchell
Blaize Jamison
Blizzard Soloist 1
Ellie Matthews
Lydia Klausli
Blizzard Soloist 2
Evi Deligiannidis
Heidi Millus
Camera Crew
Mia Wheeler
Allie Powell
William Germann
Charlie Powell
Farmer
Annie Edmonds
Alyssa Kelley
Froglet Soloist
Grant Cobb
Ben Leaphart
Froglets
Anna Chain
Addie Peterson
Bennett Page
Alexis Schwitzgebel
Caki Kirchin
Ava Auld
Carrie Lyn Odom
Ben Leaphart
Clara Carter
Brooke Rowe
Ella Daniel
Eleanor Wiliams
Ellis Strasburger
Elise Hansford
Grant Cobb
Emily Shannon
Kamryn Strum
Evy Billingsley
Kate Davenport
Grace Shand
Kearsley Hines
Jacqueline Eargle
Kennedy Davenport
Julie Ryan
Mathieu Chain
Layne Prevost
Molly Caskey
Lizzie Hollis
Nadine Bradley
Louisa Shand
Sal Alia Ray
Mary Dubose Gamble
Sean Granger
Mary Rowe
Will Lyons
Owen Shapiro
Sylvia Church
Virginia Freed
Boy Voice
Will Lyons
Owen Shapiro
Girl Voice
Clara Carter
Louisa Shand