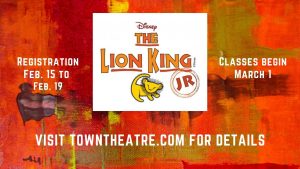 CLICK HERE TO ENROLL!
(Open enrollment begins 2/15 at 12 noon.)
Hakuna matata! Pride Rock will be created on the Town Theatre stage this spring! We are excited to have the opportunity to do this show and are looking forward to having you participate. The Lion King Jr. is a BIG show, and we want to give students as much time in preparation as we possibly can. We also are taking advantage of the fact that the theatre will not have a main stage show in May as it traditionally does.
For this Spring, we intend to keep our class sizes small – no more than 15, but we will aim for 10 per class. Not only is this advisable to allow for more distancing during COVID, but it also allows for more individual time to be spent with the students. Our Fall 2020 and Winter 2021 sessions showed us just how much our students grew in these smaller group settings.
With smaller class sizes, we still want to place any student away who wishes to participate. We have mapped out our class options below. At the time of registration, we will ask you to rank your preference of class times for your student and we hope that with some flexibility, we will be able to place every student in a class. We do know that some of you will only have one class option and we will work to make that happen.
Classes and Shows
Classes begin Monday, March 1 and run through April 30. During that time, students will attend their assigned class ONE TIME per week. There will be no class meetings the week of April 5. Group rehearsals will be planned for Monday, May 3 through Thursday, May 20. All group rehearsals will be held during the week – NOTHING will be planned for Saturdays or Sundays due to other shows and theatre commitments. Not all students will be called for all group rehearsals. We will outline those details once the show is cast and we are able to see what will be needed.
Performances will be held the weekend of May 21-23. When we see our final enrollment, we will quickly determine which classes are paired and when they perform. We will offer two performances per cast and will work to keep siblings in the same cast.
Class Times and Grade Levels
Monday
5:15 PM to 6:45 PM                K to 3rd grade
7:00 PM to 8:30 PM                4th grade to 7th grade
Tuesday                      
5:15 PM to 6:45 PM                4th grade to 7th grade
7:00 PM to 8:30 PM                8th grade to 12th grade
Wednesday                
5:15 PM to 6:45 PM                K to 3rd grade
7:00 PM to 8:30 PM                4th grade to 7th grade
Thursday                    
5:15 PM to 6:45 PM                8th grade to 12th grade
7:00 PM to 8:30 PM                8th grade to 12th grade
Friday                         
5:15 PM to 6:45 PM                K to 3rd grade
Registration Dates
Wednesday, February 10 at 12 noon – early bird registration for students who are enrolled in one of our Winter 2021 bootcamp classes.
Monday, February 15 at 12 noon – registration open to all
Friday, February 19 at 5 PM – REGISTRATION CLOSES to allow for class placement
Parents will be contacted the week of Feb. 22 with your student's class assignment. We will do our absolute best to align you with your first choice but appreciate any flexibility you may have. If a class does not have enough students to make, we will work to combine classes keeping age groups in mind. 
Cost for the 8 weeks of classes and 3 weeks of rehearsals is $200. There is no additional fee for costumes.
We will offer a $25 discount for siblings in the way of a Town Theatre gift certificate which can be used for tickets or other Town items. A limited number of student scholarships is available. For more details, contact shannon@towntheatre.com.  
We know this year is different so please do not hesitate to contact us if you have any questions or concerns.
Town Theatre's youth theatre program is sponsored by: