We continue to experience an unusual year. We are hopeful that in the spring, we will be able to return to our normal full youth theatre production – or at least something remarkably close to it – and we have some fantastic plans in store! Until that time, we believe that our students NEED and DESERVE some in-person youth theatre classes. Our answer: a short-term program for January and February 2021.
Classes begin the week of January 4 and will run for six weeks (through Feb. 11). The weekend of February 12-13, classes will present a showcase for family and friends. Showcase times will be determined after final enrollment and class selection. Showcases are currently planned to be held at Town Theatre following the COVID protocol used in fall 2020 including limited audiences, masked guests, fogging and ventilation systems. Class size will remain small with a maximum of 10 students per class. As in the fall, students will be masked in class and we will continue with temperature checks, hand sanitizing and distancing until we are told otherwise.
Each class will be assigned a name-recognized show for its focus – think Annie, Beauty and the Beast, High School Musical, Matilda, Legally Blonde, Oliver!, Wicked, You're a Good Man, Charlie Brown, The Wiz, Newsies, The Sound of Music, Hamilton, The Wizard of Oz and Peter Pan. Shows will be age-appropriate and the final selection will be made by teachers once class enrollment is complete. Each week students will focus on a different aspect of the show and will work toward presentation pieces for the showcase. For example, if a class is assigned Matilda, the class will learn 2-3 performance numbers from Matilda that incorporate different types of dance. Scenes will be created to allow each student the opportunity to work on character development and line delivery. In addition, students will work on costume and/or prop creation – bringing the whole musical theatre experience together in one capsule.
Each class needs a minimum of six students to move forward. In the event there are less than six students, we will combine classes to create a viable opportunity for our students though we will keep age ranges in mind.
**Students who enroll in Musical Theatre Bootcamp will have the opportunity to register early for the Spring 2021 Youth Theatre Program.**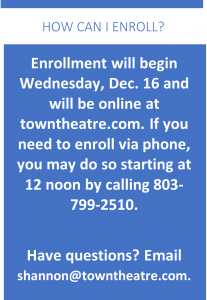 Tuition for the program is $180. Class options are as follows:
Monday
5:15 PM – 6:45 PM         
K to 3rd grade                               

Tuesday
5:15 PM – 6:45 PM         
4th grade to 7 th grade
7:00 PM – 8:30 PM         
8th grade to 12thgrade
Wednesday
5:15 PM – 6:45 PM         
K to 3rd grade
7:00 PM – 8:30 PM         
4th grade to 7 th grade
Thursday
5:15 PM – 6:45 PM         
4th grade to 7 th grade
Town Theatre's youth theatre program is sponsored by: