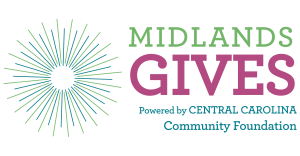 Tuesday, May 2
For two years now, we have been amazed by your support during
Midlands Gives — a 24-hour fundraising and awareness campaign
supported by the Center Carolina Community Foundation. We're
making big plans for this year — including a special raffle for a
Patron Membership for Town's 99th season.
On Tuesday, May 2 (or before if that day doesn't suit you!) — visit here and make your donation using a credit or debit card ($20 minimum).
If you give to Town, we will give back to you!
~For every $25 gift— a voucher for 2 free concession items
~For every $100 gift — a Town Theatre print
~For $250 — VIP RESERVED seating for the 99th season**
~A $500 gift will get you a half page feature in one of our playbills to showcase a favorite company, nonprofit, business or even yourself! Only EIGHT available. Choice of show on first come/first served basis.
~For $1,000 — a reserved parking space for each show of the 99th season (that may be the best deal in "Town"!)
ALL GIFTS OVER $250 WILL BE ENTERED IN A RAFFLE FOR A PATRON MEMBERSHIP!
More details: All contributions are 100% tax-deductible. Each donor will receive confirmation of the contribution via email. Town Theatre will acknowledge all contributions by donor name and level in an upcoming show playbill. All awards from Town will be coordinated with the individual donor. Levels are not cumulative.
** VIP seating: You may select a performance date for each show and have the same seats for each show throughout the season. (This contribution does not include your membership – it must be purchased separately.)
The Columbia Stage Society/Town Theatre was born in 1919 and has continuously served the Midlands of South Carolina by providing quality entertainment to more than a million individuals through these many years. It has been hailed as a treasure to the Midlands of South Carolina, the State as well as the nation as the longest continuously operating community theatre in the United States, housed in a building architecturally designed to be Town Theatre.
It is only with the support of people in the Midlands – those who perform on our stage and who work to put on our productions as well as those who support the theatre through attendance – that we can continue to produce live theatre. Our plan, of course, is to continue to do this for many years to come.
As with most arts organizations, ticket and membership sales only cover a portion of the theatre's needs. Our productions simply would not be possible without additional financial contributions from those who value the arts. Please view this website for ways in which you may make a contribution.
Here are some of the events that your contributions will foster:
A main-stage season of five Broadway musicals and/or comedies
A summer production of a Broadway musical featuring young people
A burgeoning youth theatre program consisting of fall and spring classes culminating in a stage production as well as summer theatre camps