Narrated by Dell Goodrich
Performing is and has long been a common theme in our family dynamic. Growing up, I thought every family had a rule that prohibited singing at the dinner table. Don't they? Was this a hint of the future for us?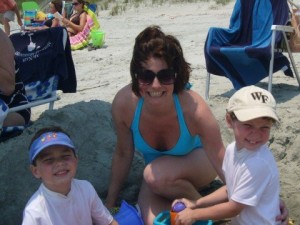 As adults, conversation at our family gatherings often centers on who is involved or planning to be involved in a production. Usually at Town Theatre (and there's a LOT of talking at these gatherings, as you might imagine)!) It is a bond that we all cherish. At family dinner, one Sunday late this past summer, I brought up the subject of auditioning for Buddy Holly. After finishing Beauty and the Beast in August, I was already craving an opportunity to get back to the theatre and hoped to be involved in this production in some capacity. My initial inquiry was whether my sister, Rebecca, or my brother, Charlie, planned to audition (I knew my talented youngest nephew, Jack, already a veteran of the TT stage, was too young for this one.) Imagine my surprise and delight when Rebecca informed me that her two oldest sons, my nephews James and Marshall Seezen, were interested in auditioning and planned to play their own instruments. They'd never appeared on the TT stage before. And Charlie was throwing his hat in the ring too! Yay!
That decided it for me right away. I was definitely auditioning. I really wanted us all to do this together. When Charlie was cast as Buddy Holly, the nephews as two of the Crickets, and me as a "Crickette", I was over the moon and couldn't wait to get started. The journey has been every bit as rewarding as I knew it would be. Every day and every performance, I grow more excited about the blossoming "grown-up" friendship I'm building with my nephews. [We just became Facebook friends!]. It's great to see more of Charlie, too, as he has been so busy this last year, being both a newlywed and the new drama teacher at AC Flora.
It has been just amazing to go through this process together and to glimpse it through the eyes of newcomers like my nephews, after all these years…. Especially with dear friends Hans, Lou, and Shannon leading us. It is especially significant and memorable for me to get to share the stage with both of my families in Town's 100th year.
Rebecca and I became part of the Town Theatre family more than 35 years ago, with Showstoppers I and The Sound of Music. I asked Rebecca to share her thoughts about the older boys joining their other family members as "Townies."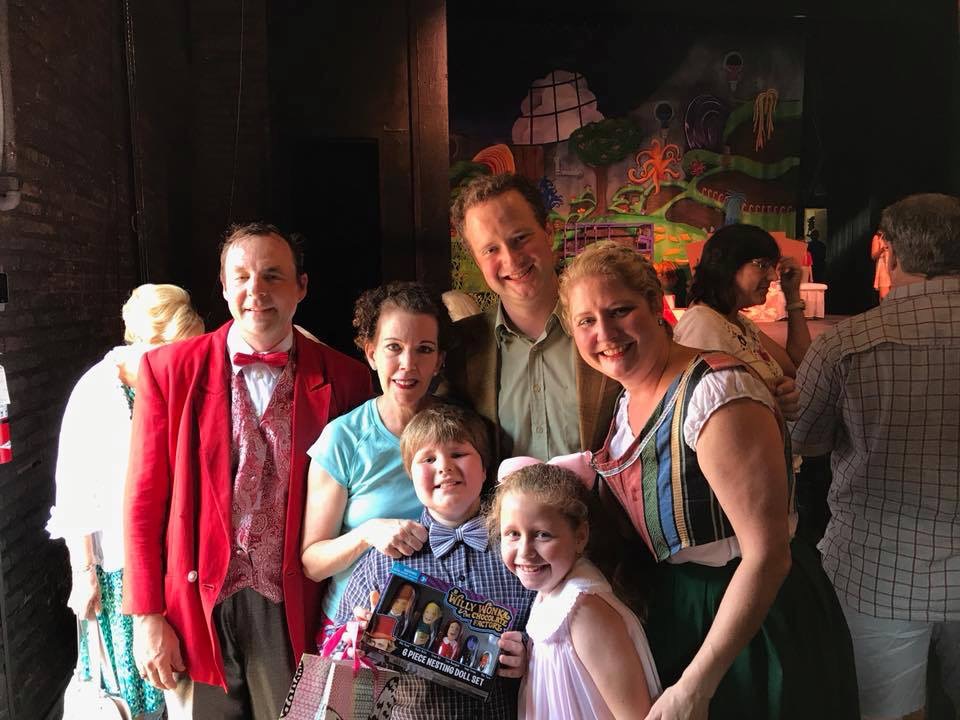 She shared many of my same sentiments. "It has been so fun to watch y two older sons become a part of the Town family. They are joining not only their aunt and uncle, but me, their younger brother, and their dad as Townies. It is hard to describe how it feels to see all 3 of my kids finding joy on the stage where I grew up. I am proud, of course, but it also strengthens our bond as a family. We have this common experience that we share. We all know what it feels like to run those stairs to the dressing room, wait backstage for a cue, and hear the applause of a sold-out crowd from that historical stage. It is such an amazing theatre family, and I'm glad to welcome James and Marshall to it." 
In one of the first productions I did with my brother, Charlie Goodrich, I also played a music legend, Tammy Wynette. We have similar research and preparation styles for these roles, so I already knew what was ahead for Charlie as he met the challenge and enjoyment of portraying a known figure, whose music and sad story has touched so many people. I also knew he would nail it. I'd seen him do it with many roles before, most notably as Johnny Cash. As predicted, Charlie has thrown himself into the role and shines as Buddy Holly. James and Marshall, being such accomplished musicians themselves, enhance the experience as they share the musical spotlight with Charlie and bassist, Billy Bishop. But wait, there's more! Not only is Charlie an accomplished actor, singer and musician, but he is making a name for himself as a director. And he's darn good at it! (I know! Rebecca and I have both been cast in plays he directed.) He'll be directing Mamma Mia in the spring. Hopefully, some of us will have the chance to collaborate again on that production.
This is what Charlie had to say about this particular experience. "What a joy to be involved in this fabulous production! This Season at Town is not only is the 100th Season for the Theatre, but also my 10th Season of continuous involvement.  Initially, I only planned to direct this season (Mamma Mia), but when I saw the audition notice for Buddy, I instantly jumped at the challenge.  I already knew that Dell was auditioning, as were my nephews, James and Marshall.   At the callback we all attended I could feel that this would be a special production if we were all cast.  To my delight, we all were!
This production has been an immensely special one for many reasons.  Of course, getting the privilege to portray the legendary Buddy Holly‬ is an honor that I cannot express in words.  However, getting the chance to share the TT stage with my nephews for the first time and with Dell for the third time has made it all the more enjoyable!  Town Theatre has always held a special place in the hearts of my family.  That place has been cemented even more by this wonderful production.  I can't thank Hans, Lou, and Shannon enough for giving all of us the chance to experience this awesomeness together!"‬‬
When I asked my nephews how it felt to be a part of this, their responses reflected that they have now found the same joy as the rest of us, being on the TT stage. The bug has bitten them and they plan to keep on rocking with TT in the days to come. They also look forward to a chance to work with cousin, Agnes Babb, in a future production.
James, playing the Crickets' guitarist, shared how he cherished this opportunity on many levels. "I have had an absolute blast doing this play with my family. It was totally awesome to get to share a stage with some of my favorite people. I am ecstatic to get to jam out with my uncle, my aunt, and my brother in front of such an amazing audience. I want to thank Hans and Lou Boeschen for all the math help, Uncle Charlie and Aunt Dell for all the support backstage, and my little brother Marshall, for keeping me on tempo."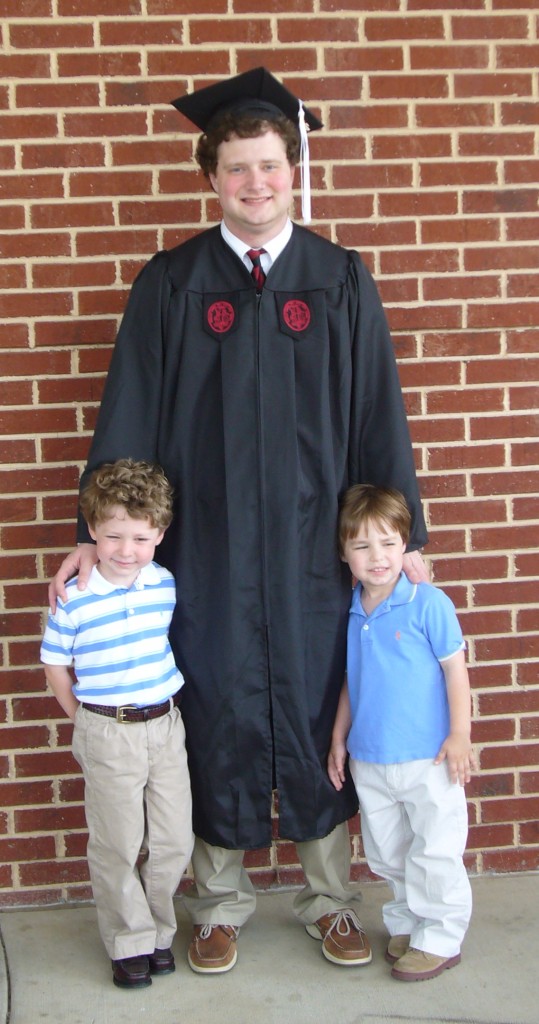 Marshall, playing the Crickets' drummer, indicated he is still discovering what a gift it is to share this passion with the rest of us. "Working with my whole family has just been surreal. I remember when I was a kid when Charlie first started at Town. Since then it always seems like someone is doing a show. Whether it be one of Charlie's, Mom's, or Dell's shows or one of my little brother's (Jack)….or even both my parents, Charlie and my little brother all in one. Before this show, I have stuck primarily to the Cardinal Newman drama program. Now that I've started at Town Theatre, I look forward to many more shows with my great family."
I can't adequately express how incredibly proud I am of my talented family. (As anyone who knows me is well aware. I brag about them to anyone who will listen!) I've jokingly called us "The Von Goodrich Family Singers", in homage to the Von Trapp Family (The Sound of Music). Now that the next generation is represented, I think I will be modifying that to "The Von Seezrich (Seezen-Goodrich) Family". 😉
We have many, many years ahead of us to enjoy working together and to share our love of performing. Thanks, Town Theatre, for making a place for all of us to join in the fun!