By Kristy O'Keefe
Member of the 2005, 2009 and 2018 casts of Town's Beauty and the Beast
In 2005, I walked through Town's doors to audition for the Midland's debut of Beauty and the Beast. As a childhood favorite Disney tale, I was ecstatic to be cast as a Teabag (yes, I still remember my choreography)!  I looked up to so many of the talented actors, and often remember reciting the Silly Girl's lines in the wings…I thought they were so hilarious! One of the production dates even fell on my 11th birthday so…I brought my friends to the production!  I will never forget peaking through the wings (yes, I know, against the rules) and seeing all my friends with their light up roses.  After the show, I introduced everyone to Belle, the Beast, Babette, and all my favorite dancing utensils! When the production came to a close, I was devastated.  I continued to perform "Be Our Guest" every night in my living room!
Flashforward to 2009—Town announced it was bringing Beauty and the Beast back, due to popular demand! I vividly remember jumping around the house celebrating and chose an audition song that day! I was cast as a wolf and plate, alongside some of my best friends.  This 2009 production will always hold a special place in my heart—having danced with one of my biggest role models, Agnes Babb.  Being the youngest of the wolves, I felt very intimidated by all of their dance experience.  Agnes made me feel so welcome and even named me "leader of the pack." Little did I know this was the beginning of a lifelong friendship.
As we open Beauty and the Beast for the third time at Town, I can't help but reflect on how magical each production has been.  "Be Our Guest" becomes more and more extraordinary with time—even if we want to pass out on the last kick-line! The chemistry between each cast is different, yet beautiful.  As we raise the curtain this weekend, I am so grateful to have Agnes by my side once again.  Thirteen years later, and I am still ecstatic to perform my favorite Disney tale with some of my best friends—I guess I don't have recite the silly girl lines in the wings though. Thank you, Shannon Scruggs, for casting me and Ag as part of such an enchanting production that has truly touched my heart in so many ways. Will there be a 4th?  Well… "If it's not baroque, don't fix it!"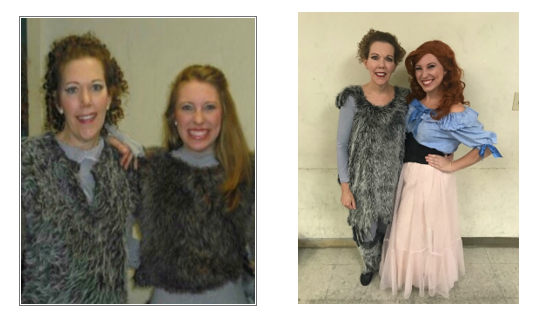 From left to right Agnes Babb and Kristy O'Keefe, 2009 and 2018