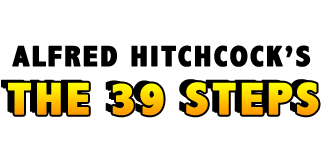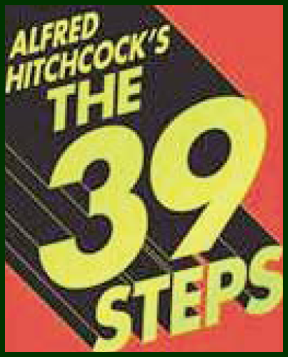 Adapted by Patrick Barlow
From the novel by John Buchan
From the movie of Alfred Hitchcock, licensed by ITV Global Entertainment Limited
And an original concept by Simon Corble and Nobby Dimon
Director – Allison McNeely
Scenic Designer/Technical Director – Danny Harrington
Costumer – Lori Stepp

March 9 - 25, 2012
All performances are at 8:00 except the three Sunday 3:00 pm matinees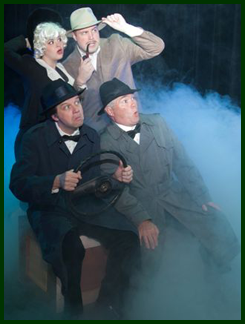 The 39 Steps is an amazingly brilliant production that will introduce you to more than 140 characters portrayed by only four actors. Yes, that is correct. Four. This fast-paced whodunit is both comedy and thriller combining the mastermind of Alfred Hitchcock with a taste of Monty Python.
A man whose life is rather mundane, Richard Hannay, meets a woman who identifies herself as a spy. After their meeting, she ends up dead. Her death spurs the involvement of a peculiar organization called "The 39 Steps" that is hot on Richard's trail trying to find the mysterious woman's killer. Chad Forrester (of "Child Catcher" fame from last summers Chitty Chitty Bang Bang as well as The Drowsy Chaperone) takes the role of our show's ho-hum hombre, Richard. Shelby Sessler (also of Chitty Chitty Bang Bang fame as well as Beauty and the Beast) plays the three women with whom Richard has romantic entaglements including the soon expired secret spy. Bill DeWitt (Dearly Departed and Out of Order) Frank L. Thompson III (White Christmas, Forever Plaid and director of Town's South Pacific) show extreme acting chops by taking on every other role in the show ranging from heroes, villains, men, women, children and even the occasional inanimate object.


Hitchcock fans will enjoy the allusions to (and puns on the titles of) his other works including Rear Window, Psycho, Vertigo and North by Northwest.

March 9 - 25, 2012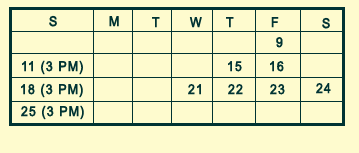 Adults - $20
Seniors over 65/active duty military/full-time college - $17
Youth 17 and younger $12
Sponsors:
John & Cookie Cloyd
and GMK Associates