It's time for some #pureimagination with our Youth Theatre production of Willy Wonka Kids! Two of our performers — twins Anna Grace and Matthew Boney — took some time to share their thoughts about performing in this show. Take a look!
"Hello!  My name is Anna Grace Boney. I'm currently involved in the
Youth Theatre production of "Willy Wonka Kids" at Town Theatre and I want to share a bit of my experience with you.  It has been a special experience being a part of theater here at Town. The director of the shows, Jamie Harrington, is awesome. She is so welcoming, has an amazing amount of talent, and is very skilled in choreography and vocals.  "Willy Wonka" is the third Youth Theatre production I have done at Town, and with each show I develop a deeper love for theatre. I truly believe theatre is an amazing opportunity for anyone — even if you have never done a show. Ms. Jamie makes you feel welcome and I think everyone should have a chance to experience doing a youth theatre production.
My brother Matthew got me into theater after I went to see him in his first main stage production at Town, Joseph and the Amazing Technicolor Dreamcoat. As I watched the show, I realize I wanted to be up on that stage performing, too. If you have always wanted to do theater, or if you just want to do a show with an awesome director, I suggest the Town Youth Theatre program!"
And speaking of brother Matthew — here are a few words from him!
"
I am so glad that I get to have the wonderful enjoyment participating in the Youth Theatre performances at Town Theatre. The director, Jamie Carr Harrington, is extremely patient and kind I have enjoyed working with her. I revel in the rehearsals leading up to the show and being able to talk to other kids with the same interests that I have. This is my third Youth Theatre performance I have done and so far I have enjoyed every bit of each one. The Willy Wonka rehearsals have been hard the last couple days with both casts gathered at the same rehearsal, but as each rehearsal ends, the show draws closer, and you feel the excitement in the air.  You just know that we will pull the show together and we hope that we will have a great show for all the audiences!"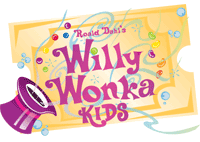 Come see these great kids — and many more — in Willy Wonka Kids. Shows are Friday at 7; Saturday at 3 and 7 and Sunday at 3!