Need a gift? We have the perfect options for you! Not only will you bring smiles to your friends and family, your wallet will also thank you!
T-shirts,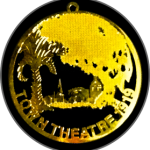 prints, ornaments, tickets and more!
To purchase any one of these items, just give the box office a call. If you get our answering machine, simply leave your name and number and we will return the call as soon as possible. Or e-mail town@towntheatre.com and we will help fulfil your order.