We sat down with Abigail Smith Ludwig — one of the stars of Sugar (Some Like it Hot) to hear what she had to say about becoming Marilyn.
Q: What is your history with this production — did you watch it as a child? 
A: Actually, I wasn't even aware that there was a musical version of this movie until a few years ago. I sort of remember seeing the movie as a child, but it wasn't until I was older that I fell in love with it. Being able to play this role is just so amazing to me. I have wanted to "be Marilyn" for as long as I can remember and to get to perform alongside my dear friends makes it even more special.
Q: Do you feel that you connect with Marilyn on any levels? 
A: Yes, definitely. My grandmother, who looks just like her, always loved her too so I started loving Marilyn at a young age. I just always felt a connection to her…. like I knew her or something. I've read a lot about her and, overall, I think she just wanted to be loved. She had a big heart and loved everyone around her. I think I'm a lot like her in those ways, but she definitely had a very lonely side to her which I do not.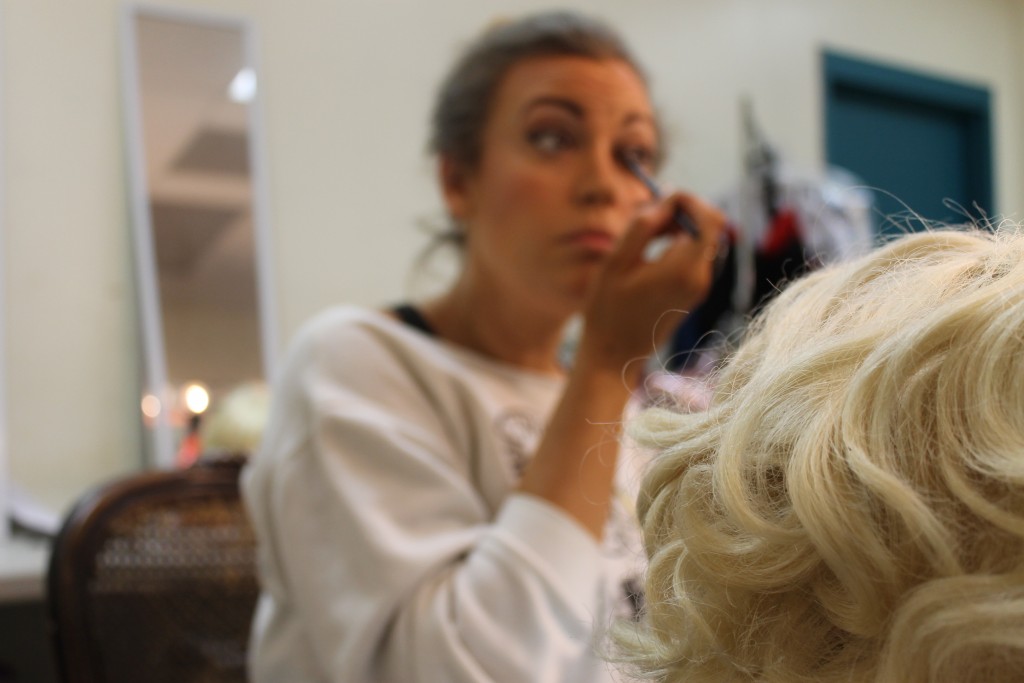 Q: What is the most challenging part about your transformation from Abigail to Marilyn? Makeup? Personality traits?
A: Honestly, this has probably been the easiest transformation for me. I see her face everyday – I have a Marilyn room – and so the look is easy for me to create. I really do feel like we are so much alike when it comes to personality. I recently watched the movie again and it was so interesting to see that we both almost had exactly the same reactions in scenes. I thought that was so interesting and neat. Probably the most challenging thing is trying to talk like her. She always had that high whisper baby type voice and I have the complete opposite of that.
Q: Do you love the beauty mark?
A: Yes! I love it! I have a very small beauty mark under my lip and I used to call it my "Marilyn." I didn't realize hers wasn't real until later in life. She used to move it around and I thought that was so cool. Maybe I'll get one and have fun with it too! Ha ha!
Q: As a makeup artist, do you feel that you have higher expectations of yourself as far as pre-show prep goes?
A: Yes. I'm kind of a perfectionist and so I have always tried to make myself look like my character as best as I can. It's fun for me though.
Q: Do you have any pre-show rituals?
A: Not anything major. I have some pictures of Marilyn on my dressing room table. I like to look at her so I can do my best to perfect my look. Sort of a motivation I guess. Everything just falls into place as soon as I put on my red lipstick and pin my wig into place.