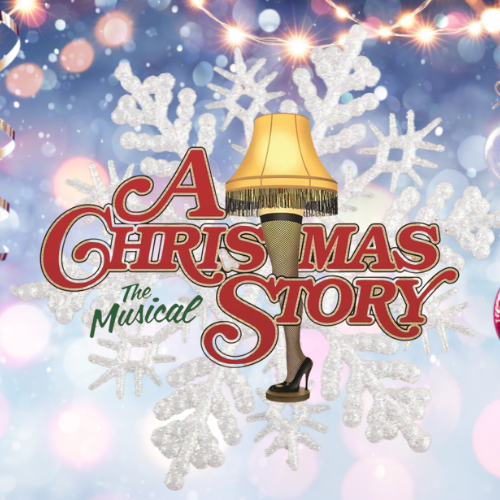 Nine-year-old Ralphie Parker wants nothing more for Christmas than to receive a Red Ryder Carbine-Action 200-Shot Range Model Air Rifle. Follow Ralphie as he ends up crossing paths with an insane department store Santa, an infamous leg lamp, and every adult in his life shouting "you'll shoot your eye out!" Capturing all the funny and heart-warming moments from the original holiday film, we triple dog dare you to see this nostalgic show or you'll be left saying "ohhhh fuuudge."
Leading us down memory lane as the Narrator is David Wilson (Joseph…). Ralphie is played by Abby Gamble (The Music Man) and Zachary Hammond (Matilda) and he pushes the buttons of the 'Old Man' and 'Mother,' played by Tracy Steele and Taryn Davis both of Elf fame. And then there's Randy, shared by Town newcomers Gracie Bender and Lily Eberhardt, who may still be trying to get out of that winter coat. Bullies Scut Farkus and Grover Dill are taken by Nick Eberhardt (Shrek Jr.) and Chandler Corbett (in his Town debut). Rounding out the gang is Hudson Freeman (Elf) as Schwartz, Sadie Wiskes (Cinderella) as Esther Jane, Palmer Holifield (Joseph…) as Flick, with Jonah Fichter as Goggles, Emily Smith as Mary Beth, Eliza England as Nancy; all of whom are appearing for the first time at Town. Nathan Jackson (Elf) dons the white beard as Santa, Christy Shealy Mills (The Little Mermaid) dazzles as Miss Shields, with motherly advice coming from Robin Saviola (Bright Star) as Mrs. Schwartz and Carrie Eberhardt (Big Fish) as Flick's mother.
Audiences will also enjoy the lively ensemble players. Carol Beis (A Christmas Story), Adam Bigony (Beauty & the Beast), Hans Boeschen (South Pacific), Gracen Cabiness (Matilda), Mary Jayne Davis (Elf), Mathew Eberhardt (Arsenic & Old Lace), Maddie Freeman (Elf), Bianca Goodlet (Jekyll & Hyde), Clyde Green (A Christmas Story), Juliet Gregg (Bright Star) and Town newcomers Megan Allen and Elliana Beraud-Meza help bring the wonderful fantasy sequences to life. Kyran Burkett (Newsies), Sarah Ruth Chettinger (Joseph…), Chloe & Elijah Collier (Elf), Emmie Eberhardt (The Jungle Book Kids), Susannah Howell (Broadway Through the Decades), TJ Leitzsey (Shrek Jr.), Anniston Redd (Shrek Jr.) and Town newcomer Leah Schmidt play Ralphie's classmates.
Priority members (Patrons and above) can reserve tickets starting Monday, November 7. All other members can make reservations starting Thursday, November 10. Tickets are available to the public beginning Monday, November 14.
A Christmas Story: The Musical is directed by Hans Boeschen, with musical direction by Lou Boeschen and choreography by Roxanne Livingston Rich. Costume design is by Janet Kile with set design by Corey Langley and stage management from Chelsey Art. The show is sponsored by Abacus Planning Group, Burr Forman and First Citizens.
* Abby Gamble, Gracie Bender, Susannah Howell and Hans Boeschen appear Nov. 25, 27, Dec. 2, 4, 8, 10, 15 & 17.
* Zachary Hammond, Lily Eberhardt, Emmie Eberhardt and Mat Eberhardt appear Nov. 26, Dec. 1, 3, 9, 11, 16 & 18.