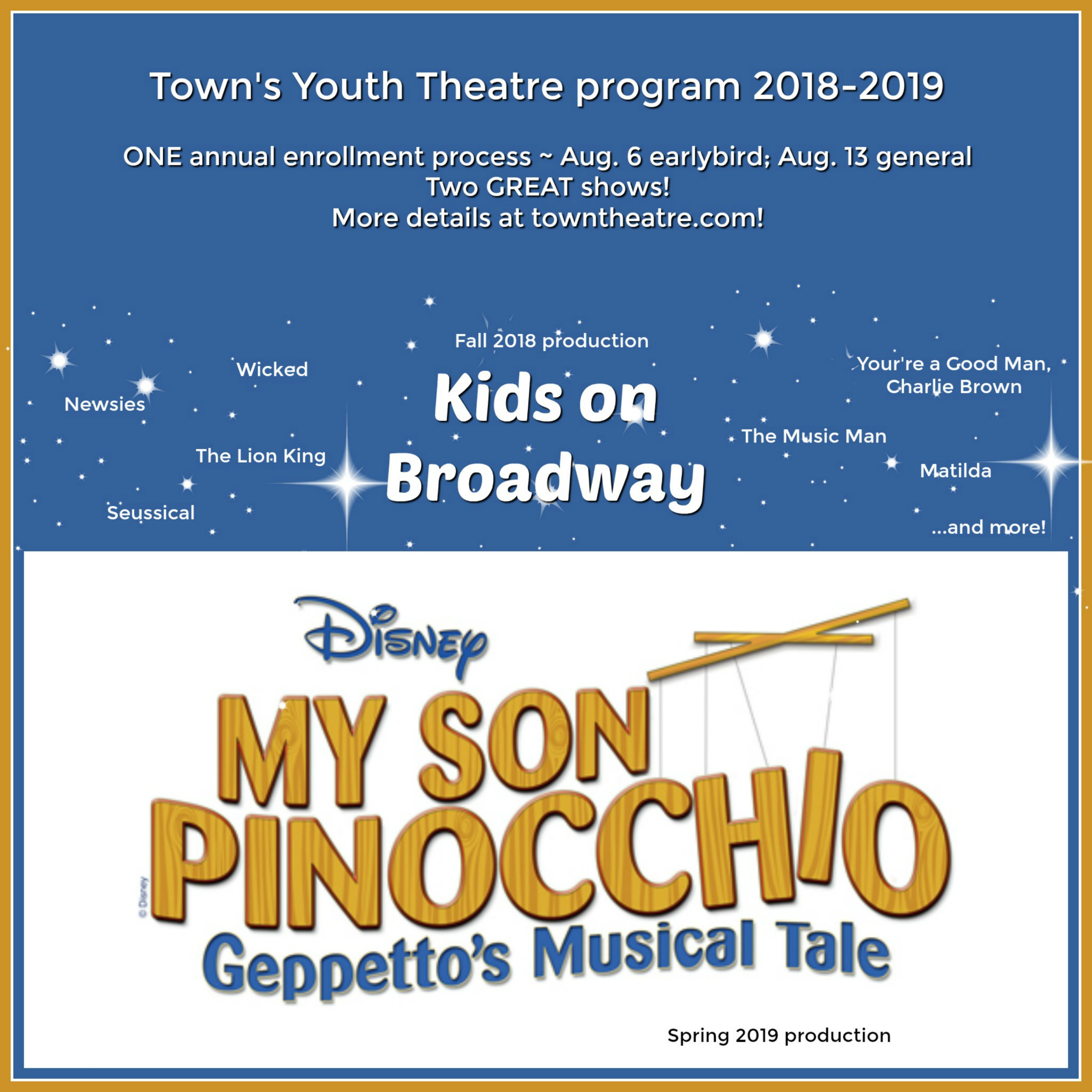 About Town's Youth Program
Town's Youth Theatre Program provides age-appropriate theatre education and performance opportunities to students in grades K through 12. Everyone is encouraged to enroll, regardless of prior experience! Classes meet once a week from 5:30-7:00 PM. Students in K to 3rd grade meet Mondays OR Wednesdays and students in 4th to 12th grades meet Tuesdays OR Thursdays. The meeting day is selected at the time of enrollment.
New Format!
For the past few years, Town has offered two semesters with separate enrollment for the Fall and Spring. We are excited to announce some changes to our program for 2018-2019! Here are the details:
One-time enrollment!
We will open enrollment for the 2018-2019 Youth Program on August 6 (for those who participated in a summer camp) and on August 13 for other students. Students will enroll for the ENTIRE YEAR (late August through mid-April).
Two Shows! Performing for a crowd in Town's historic auditorium is an important part of our program, and one we are committed to continuing.

Kids on Broadway! ~ December 6 & 7

Students will present Kids on Broadway featuring the songs, scenes and dances learned in class. Production numbers and scenes will be pulled from shows such as Matilda, The Music Man, The Lion King, Seussical, Wicked, You're a Good Man, Charlie Brown and MORE! ALL show tickets will be $10 and each cast will perform one time.

Disney's My Son Pinocchio: Geppetto's Musical Tale ~ April 5-7

This is a full-scale musical ~ not a Jr. version. There will be two casts and each cast will perform twice. See more about this fun musical below!
Show tickets will be $15 for adults; $12 for seniors and $10 for youth age 17 and under. Each cast will perform TWO TIMES over the course of the weekend.
Theatre Education! (Shhh… parents – this part is for YOU – so you can understand the "WHY behind the WHAT.")
We want to be sure that our students are getting the most out of their time with us and that we are continuing to grow them as performers. Students will spend time exploring:
Acting and Improvisation
Basic Music Theory
Dance – primarily ensemble dancing and tap
Theatre History & Terminology and
Auditioning Skills – leading into auditions for the Spring musical.
Schedule:
Fall semester:
Classes begin Monday, Aug. 27 and run through Nov. 15. *Group rehearsals will be Nov. 26-29 and Dec. 1-4. Kids on Broadway will run Dec. 6 & 7.
Spring semester:
Classes return the week of Jan. 7 and run through March 22. *Group rehearsals will be held March 22 through April 4. Pinocchio will run April 5-7.
*Not all students will be called to all group rehearsals, but we wanted you to have these dates in advance.
The program DOES NOT meet:
Labor Day, Halloween, Nov. 19-23 (the week of Thanksgiving) or Dec. 10-Jan. 4 (winter break). The program concludes before most schools observe Spring Break. All classes are held at Town Theatre.
Faculty:
We are thrilled to welcome Scott Vaughan as our new Youth Theatre Director. Scott teaches the drama program at Satchel Ford Elementary and has performed extensively at Town and elsewhere. We are also proud to have Megan Douthitt and Jeremy Reasoner who will continue in the roles of Assistant Director and Music Director, respectively. To learn about Jamie Harrington, Town's long-time youth theatre director, and her fantastic new adventure, read here.
Voice Lessons:
Music Director, Jeremy Reasoner, will also offer group vocal lessons in advance of each day's class. Students can add on this 30-minute class for an additional $200 ($10 per lesson). Group voice classes run on the same timetable as theatre classes, but do not meet the weeks of group rehearsals unless a make up is needed. Group lessons are limited to students enrolled in the youth theatre program.
Private voice lessons are also available for students in 6th grade and up. Details on private lessons can be found here.
Cost:
Though we are now a year-long program, we are not changing the per semester cost to you! Tuition for the entire year is $400 which can be made payable in two installments – one at the time of enrollment and the second in January 2019.* This fee covers all expenses for the program including costumes for Kids on Broadway and Disney's My Son Pinocchio. Undergarments and shoes are the responsibility of the student, but the program allows great flexibility in these items. Students will have the opportunity to purchase a show shirt in the spring as well as a show DVDs.
Group voice lessons are $200 ($10 per lesson) and can be paid in two installments as well.
*Parents needing alternative payment plans are welcome to contact Shannon Scruggs, Executive Director. 
More about Disney's My Son Pinocchio: Geppetto's Musical Tale
With music and lyrics by Stephen Schwartz (Pocahontas, Wicked, Pippin) and book by David I. Stern, My Son Pinocchio is the perfect challenge for our youth performers.
'Schwartz said in production notes for Disney's Geppetto & Son that he believes that the show "is entertaining while at the same time dealing with such important themes as individuality, self-esteem and the relation of parents and children."' (wikipedia.org)
My Son Pinocchio has never been done at Town Theatre – our Youth performers will be making history when they take the stage! The show is based on the classic tale of Pinocchio but told from Geppetto's perspective.
There is a wide variety of roles available as well as numerous opportunities for speaking parts and vocal solos.
If you are not familiar with My Son Pinocchio, you may be interested in watching the movie version, Geppetto, which is similar to the stage version we will present. The complete film is available on YouTube: https://www.youtube.com/watch?v=h3RYvGX3Vgc
Town Theatre is the nation's longest continuously operating community theatre and will be celebrating its 100th consecutive season this year! As we approach this historic season we feel fortunate in our ability to continue growing and developing our youth program. We truly value our students and families and look forward to this new and exciting year!
Town Theatre's youth theatre program is sponsored in part by Colonial Life.